10 Best Intranets of 2005
Topics:
Summary: On average, this year's winning intranets increased site use by 149% with designs that supported bigger screens, multinational users, collaboration, easily updated content, and factory-floor workers.
Selecting the ten best intranets gets harder every year because the number of great designs keeps increasing. While tough on the judges, this is good news: it shows that the intranet usability movement is winning. More and more companies are treating their intranets as productivity tools and are investing in improving their design's usability instead of leaving the intranet to grow as it may.
The recommendations from our previous intranet-usability reports are now being widely implemented. This year's designs were so good that our list of runners-up included at least ten additional intranets that were worthy of being recognized, featured, and emulated. However, a top-ten list can only include ten winners, so we had to select the best of the best.
The Winners
The world's ten best intranets for 2005 are:
Banco Español de Crédito (Banesto), the third largest bank in Spain
Cisco Systems, the world's leading computer networking vendor (U.S.)
Electrolux, the world's largest manufacturer of powered appliances (Sweden)
The Integer Group, the seventh largest promotional marketing agency (U.S.)
NedTrain, the Dutch National Railway's maintenance subsidiary (The Netherlands)
Orbis Technology, a small software developer (U.K.)
Park Place Dealerships, operator of ten luxury automobile dealerships (U.S.)
Procter & Gamble, a leading manufacturer of branded consumer goods (U.S.)
Schematic, an interactive design and technology agency (U.S.)
Verizon Communications, a leading telecommunications company (U.S.)
Cisco is particularly remarkable because its sales-support intranet application was among the 2001 winners . This year, Cisco won for its overall intranet design.
Schematic won for its extranet connecting employees, clients, contractors, and vendors. The other nine winners are internal-use intranets.
Sweden seems to have the world's highest concentration of intranet design talent relative to the size of its population: it now accounts for 8% of the fifty intranets that have won our design competitions since 2001. An impressive achievement for a small country. The U.K. retains second place, with 10% of the winners since 2001. The United States continues to have the most winners. In general, however, we continue to find good intranets from over the world; this year's winners represent five different countries.
Four of the winning intranets support relatively small companies with less than 1,200 employees. Two others are mid-sized, with 4,000 to 10,000 employees, and four are big, with 34,000 to 236,000 employees. The winning intranet teams range in size from one person at Park Place Dealerships to twenty people at Cisco and twenty-four at Verizon.
Advanced Design Concepts
This year, several intranets were designed to work best at a 1024 x 768 screen resolution . Intranets have an advantage over websites here, as organizations often give all employees the same sized monitors. At Banesto, for example, all bank employees have standard-issue monitors that support 1024 x 768 resolution. The intranet designers used this wider screen space to good effect, implementing a homepage with multiple columns in a layout that would feel cramped on a smaller screen.
In the future, we expect to see much bigger screens, starting in knowledge-focused small and mid-sized companies, which will get the most substantial productivity gains from including more data within the visual field. Except for slightly boring examples (such as spreadsheets), we've yet to see many good examples of interfaces optimized for screens that are 2,000 pixels wide or more. In the coming years, advanced intranets might well be pioneering these broad-canvas designs.
Intranets are already pioneering the use of online video , which websites rarely use to good effect (aside from movie trailers). Intranets can take advantage of one of video's key benefits: it can show a speaker's personality. Several winning intranets use video to strengthen the corporate culture through messages from the CEO and other executives. Because video messages carry both information and emotion, they can convey the multiple layers of a CEO's message.
Among this year's winners, the Integer Group has perhaps the most elaborate online videos, often produced in a highly original style in which the company's Denver-agency president makes fun of himself. Although that specific tone might not fit as well in more staid organizations, the general idea of highlighting personality and illustrating corporate culture by example definitely translates.
Orbis has probably the most unusual intranet approach, building its site entirely on a Wiki platform . In this collaborative authoring environment, any employee can edit any page at any time (except for a few modification-controlled pages). As a result, employees can easily and immediately update information whenever they come across outdated content. The result is that the Orbis intranet is much more richly informative and current than what is typical for small organizations with limited intranet resources. Even companies that don't want to completely open up edit-access can benefit from making department- and project-level pages easier to edit.
Beyond The Office
Intranets began as document repositories and soon grew into support tools for office workers. We are now starting to see intranets move beyond this desk-bound role to take on the world beyond the office.
Four of this year's winners (Electrolux, NedTrain, Procter & Gamble, and Verizon) offer kiosk-based intranet access for factory-floor workers and others who work outside an office environment. These kiosks are basically traditional PCs on stands, maybe slightly ruggedized to withstand dust and grease. In the future, we hope to see a new kind of user interface developed for workers who are not routinely exposed to computers. It's difficult to ensure good usability for blue-collar workers when you're building on top of a UI platform optimized for office use.
Several of this year's winning intranets have special applications to support the physical environment. For example, NedTrain has a real-time list of available train parts , the most important piece of information it needs to keep its trains running. On the Park Place Dealerships intranet, the Client Concern Resolution system proactively contacts managers -- such as the repair shop's foreman -- who would otherwise be hard to locate. By enabling electronic communication with important employees who are highly mobile, this feature expedites customer service, which is much appreciated by the demanding clients of these luxury dealerships.
Internationalization
Several of the winning intranets support employees in multiple countries, and Electrolux and Procter & Gamble have made internationalization a core design element. P&G provides an especially impressive location-change tool that employees can use to control the intranet's language and location-dependent information, such as HR policies. Having one place to define location-based settings beats the typical scenario, in which employees must wade through information about multiple locations in multiple languages in order to find the appropriate documents.
In addition to its English-language pages, Electrolux supports localized portals in French, German, Hungarian, Italian, Portuguese, Spanish, and Swedish. To ease collaboration across time zones, the company also provides a handy reminder of the current time-of-day at three main locations (Sweden, eastern United States, and Sydney, Australia) at the top of every page.
Technology Confusion
The only conclusion regarding intranet technology platforms is that there is no conclusion. No single solution dominates the space . In fact, most winners didn't even build their intranet from a single, integrated platform. Typically, designers cobbled together widely diverse software using little more than spit, bailing wire, and willpower.
In total, the ten winners used thirty-nine different technology products. Most winners also feature a significant amount of homegrown software in their overall intranet technology platform, confirming the conclusion that it's still not possible to buy everything you need for a great intranet.
The most-used technologies were Apache, Microsoft ASP.Net, and Microsoft SQL Server. Other often-used technologies included Documentum, Google Search Appliance, IBM WebSphere, and Java 2 Enterprise Edition (J2EE).
Some winners relied strongly on solutions from HP or IBM, and one winner was a committed Microsoft-only shop. Open-source software also made a strong showing this year. Beyond the heavily used Apache, winners used Eclipse, Linux, Mambo, MySQL, PHP, PostgreSQL, and TWiki.
All that said, we do see some progress in intranet technology platforms: solutions are emerging that support more of the necessary design elements and these solutions are becoming easier to integrate. For example, plug-in search engines are easier to handle than past search packages, which required extensive hacking before they could spit out decent results. Still, a significant opportunity remains for software vendors who truly understand the needs of intranet users and intranet teams.
Design Process
The average time between redesigns for this year's winning intranets was 29 months . This is about the same as we've seen in earlier years: the typical time between redesign rounds is between 2.5 and 3 years.
What's new is that companies have dramatically expedited the redesign process itself. This year, the average project duration was a brief 7.6 months ; in earlier years, redesigns typically lasted between 11 and 13 months. In fact, as the following chart shows, projects have moved progressively faster since we began our intranet design competitions. (Data on redesign duration is unavailable for 2001.)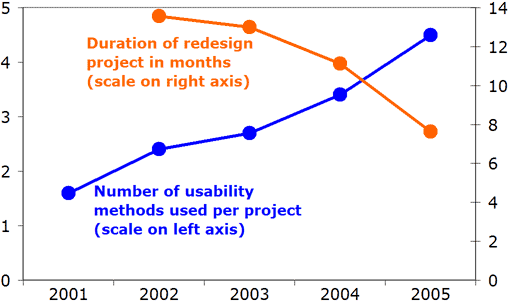 Why are design projects moving faster? One reason is that technology solutions have in fact improved, making it easier to build what you want. Another reason is that we know more about intranets. As a result, we can concentrate resources on improvements that really matter to users and on getting the key changes out faster, while deferring less important ones.
The chart also shows a substantial increase in the number of different usability methods employed during redesign projects over the last five years. The fact that designers have more than doubled their usability methods, while decreasing their redesign cycle time by six months, is striking proof that usability doesn't have to delay project launch.
The 2005 winners used an average of 4.5 different usability methods . The most-used method was user testing, employed by 80% of this year's winning projects. Other heavily used methods included card sorting and heuristic evaluation , both of which were used by 50% of the projects.
In the past, few projects used heuristic evaluation. In 2001 and 2002, only 10% of the winners used the method, which basically involves judging a user interface relative to known usability principles. The recent growth of heuristic evaluation for intranets makes sense, because we have only recently established comprehensive intranet usability guidelines . It's now possible to review an intranet design relative to a list of important intranet usability issues. Prior to 2003, this was possible for websites, but not for intranets.
In general, we recommend using a variety of methods at different project stages, starting with field studies and tests of the old interface to set the new design direction. Next comes iterative design and testing with users. Few design projects fully follow this recommended user-centered design process, but in tracking good design projects over the years, we've seen more projects get increasingly closer.
Improvement Metrics
Averaged across the winners, intranet use increased by 149% following redesign . Organizations typically measured usage in terms of pageviews or user sessions per month. Intranets are discretionary-use environments; employees only visit them if they feel it's worth their time. Thus, increased use is a good indicator that a redesign is providing recognizable value to employees.
That said, pageviews are not a fully satisfying ROI metric because it's hard to estimate the monetary value of the increased use. Some types of use translate more directly into cost savings. Verizon, for example, saw the number of employee self-service transactions grow from 1.3 million to 6.3 million per year after it improved its intranet's usability.
On a smaller scale, Schematic saves $100,000 per year on express shipments to clients and other partners now that they can directly view their project's progress on the extranet. This type of cost savings comes as hard dollars that are easy to count.
Quantifying the productivity gains from increased intranet usability requires a formal benchmarking study, which few organizations bother conducting. Thus, even good intranet teams usually don't have complete estimates of how much money they save their organizations.
Cisco is one of the rare exceptions. The company's intranet team collected time-on-task measurements for employees using the old and new intranet designs to perform fifteen representative tasks. Overall, the average task took 17.6 seconds less with the new design. When considering total intranet usage, this faster performance saves Cisco $3 million per year simply from the reduced time it takes employees to navigate from the intranet homepage to a subsite. The gains from improving subsite usability will probably be even greater.
Cisco also improved its user success rate across the test tasks by 2%, increasing it from 87% to 89%. This improvement might seem modest, but the higher the success rate gets, the harder it is to increase. The fact that Cisco's old design had an 87% success rate indicates that it was already very good; we usually see substantially lower success rates in our studies. As this example shows, even great designs can get better with close attention to usability -- and small improvements can be worth millions.
In real life, it's infeasible to expect a 100% success rate , but it's definitely possible to add a few percent with a good redesign. Across a big company, that's a lot of additional employee tasks you can empower each year. The average intranet project, which sits at the 60% or 70% success level, should expect even bigger improvements: low-hanging fruit is very real given the current state of intranet usability in most organizations.
As the ten winners show, it's possible for intranets to achieve a level of excellence lacking in most companies, and it doesn't require a lot of time to realize major usability improvements.
Share this article: Twitter | LinkedIn | Google+ | Email
---