Managing User Experience Strategy
Design thinking, early UX methods, content strategy, market research, quantitative assessments, process innovation, design patterns, and UX career development
Strategy: Everyone wants to do it, but what exactly is user experience strategy and how can you implement at your company? And if you are not in a position to be operating strategically today, how can you set yourself or your team up to do so in the future?
This session will address these key questions.
User experience strategy can include many activities, such as design thinking, early user experience methods, content strategy, certain types of user and market research, quantitative assessments, process innovation, design patterns, UX organizational structure, and career development. Using real-world case studies, you will learn how to use these concepts as effective strategies for your company or career.
"Very resourceful for me to convince and educate team and entire organization for user centered design strategy and UX team management. Class is filled with lots of UX strategies, framework case study data, and hands-on exercises."
Dianne Lim
Oracle
Topics Covered
Topics Covered
Learn the business relevance of user experience
How user experience strategy impacts business and why it matters
Product design strategic methods
Content strategy
User experience research methods that have a big impact on strategy and decision making
Organizational models and user experience functions
Product development processes, like agile and waterfall, and how to best fit in
Review people, organizational and career issues that impact user experience effectiveness
Develop a personal plan that is tailored for your particular situation, based on these concepts.
Format
Format
The course is mainly in lecture format with several group exercises to reinforce the learned principles and guidelines.
The course also includes:
Real-world case studies from top user experience companies
Opportunities to ask questions and get answers
Participant Comments
Participant Comments
"Instructor was great. Course was interesting and engaging. More tailored to larger organizations. Provides a 'big picture' view of UX."
Akil Annamunthodo, Toronto
"Really good course, it's actually given me tools to plan my next steps on my UX challenge. You realise that no matter how mature your organization is, in UX, we all face same barriers and challenges!"
Caralina Bravo, SODIMAC
"This course was great at addressing practical, real world situations I've faced when introducing the UX process into my organization."
Chris Lenhart, GES
"Discussion and exercises were particulary helpful to me. I have had several epiphanies! Instructors were highly skilled and credible! The content is complete and concise — no doubt from years of iterations and experience. I'm grateful there is a growing UX community I have tapped into!"
Melinda Baumammo, University of Virginia Library
More Participant Comments

"Provides an end to end toolkit to deliver UX to your organisation."

Joseph Foster, American Express

"Good insight on how to sell out UX to companies — touches on a lot of points and topics but it all makes great sense."

Victoria De Paymeyrol, Blue Infinity

"I often struggle to communicate the integral bridge between branding, UX and IU Design standards. The course helped me better speak the language."

"Wow! What an amazing expert. Christian has been there, done that, and designed the better t shirt."

"The speakers have a wealth of experience, they were very good presenters. I found the real-world examples very useful."

Martha Bramley, British Council

"This course is exactly what I needed. I feel empowered and excited to return to work and share my new UX strategy for the organization."

Kim Gausepool, Virginia Tech

"Nancy and Christian did a great job at forcing me to step back and think about the difference between customers and users. Because of this, I am able to have empathy for our business leaders. Thus giving me the ability to work effectively with them and sell UX internally."

Emily Schepp, Giant Creative Strategy

"This course is really good, in-depth and 30,000 ft view of UX processes & strategy. Great information and ready to go implement what I learned today."

H. Patel, Sam's Club
Instructors
Instructors
Christian Rohrer
Christian Rohrer is Vice President of Design, Research and Enterprise Services at Capital One, heading up all user research efforts company wide, as well as leading the design teams focused on identity, security and API Development. He was previously Vice President and Chief Design Officer in the Consumer Division at Intel Security. Christian is a veteran of web user experience design and research, having participated directly in the development of some of the world's most popular web destinations, including Yahoo!, eBay, and Realtor.com (Move, Inc.). He holds a Ph.D. from Stanford University.
Nancy Dickenson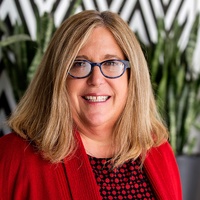 Nancy Dickenson has been a leading user experience expert for over 25 years. Nancy began her career at Apple Computer in 1988. She went on to manage, lead, and build award winning, user-centered, product design and research teams at ABCNews, HarperCollins, Scient, eBay, and FirstGiving. As the head of eBay's Global User Experience Design and Research Team, Nancy spent 5 years leading over 100 user experience professionals. Nancy was an early employee of Scient Corporation where she founded and built the Customer Experience Division — a group of over 450 branding, graphic design, content, user interface, and user research employees in 13 offices worldwide.
Nancy founded Dickenson, LLc in 2010. Since then, Nancy has created successful user-centered strategies and workshops for user experience teams worldwide. She also provides individual coaching for UX executives. Recent clients include: Intuit, eBay, PayPal, Wells Fargo, MasterCard, and Financial Engines.
Nancy is also Executive In Residence for Bentley University's Human Factor and Information Design Graduate Program.