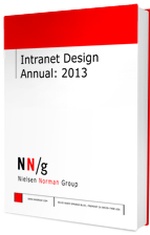 Get an inside look at the 10 best intranet designs of 2013 — this 373-page report is the only place to find this information, with 204 full-color screenshots of before and after designs, which are usually protected behind the organization's firewall.
Comprehensive case studies and detailed best practices keep you up-to-date on current trends and challenges, which you can use to improve your own intranet design.
The winning intranets were chosen by expert review based on design and usability, from a field of hundreds of nominations.
Article: 10 Best Intranets of 2013
Topics Covered
Tips for incorporating successful design patterns onto your intranet
Social integration, and incorporating social sites
Filtering
Cultivating metadata
Evolving personalized/ role-based homepages
Actionable suggested people search
Harmonious integration of enterprise applications
Improved mega menus
Collecting feedback
Attention to content migration and planned content management
Lagging mobile optimization
Methods and technologies used to achieve the vision within an organization's framework
2013 Winners
Acorda Therapeutics, Inc., a biotechnology company (United States)
American International Group, Inc., an insurance company (United States)
AT&T, a telecommunications company (United States)
Hager Group, a manufacturing organization in the electrical industry (Germany)
Luzerner Kantonalbank AG, a financial institution (Switzerland)
ONO, a telecommunications company (Spain)
Saudi Commission for Tourism and Antiquities (SCTA), a governmental agency (Saudi Arabia)
Swiss Mobiliar Insurance & Pensions, an insurance company (Switzerland)
WorkSafeBC, the Worker's Compensation Board of British Columbia (Canada)
XL Group plc, an insurance company (Ireland)
These intranets supported between 350 to 127,000 employees, and the average size was 18,800 employees.
Learn more about the winning teams
2015 Intranet Design Annual Call for Entries
Eligible designs: Anything that runs inside a company and is not accessible on the public Web, including:
Company-wide intranets
Department-specific intranets
Solutions to internal communications problems through intranet technology
Internal Web-based applications
Extranets