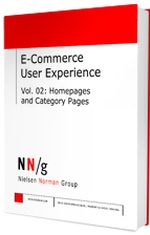 Part of the E-Commerce User Experience Series
The homepage, along with the category pages, help organize and prioritize a website's offerings. Customers run into problems when they can't tell what your site sells or can't find the products they want to buy. This report helps you present the right amount of information and organize it well.
This 180-page report presents 71 guidelines based on our usability research. Discussions and 172 screenshot illustrations supplement the findings.
Topics
Best practices for homepage design

Create a good first impression
Keep customers on your site
Sell and build trust
Introducing your website as a great place to shop
Show what you sell

Finding (navigating to) products

Classification systems for e-commerce websites
Facilitating direct navigation
o Encouraging serendipitous exploration through category pages

Category pages

Presenting options
Navigating through subcategories
Differentiating category pages from product listing pages

Product listing pages

Product listing pages play an important role in the purchase process
Presenting options
Layout of category pages can help the shopping process
Best ways to show product offerings

Product comparison

Helping shoppers compare products easily
Designing controls for sorting products
Comparison tables