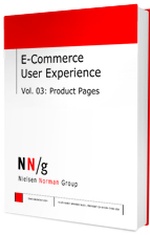 Part of the E-Commerce User Experience Series
Customers need adequate information about a product before they will buy it online. Effective product pages use a combination of text and images to show product information, availability, price, and a clear way to purchase the item. This report also includes guidelines for designing product customization options and presenting user reviews.
This 225-page report contains 76 design recommendations based on our usability research. Discussions and 235 screenshot illustrations supplement the findings.
Topics
Elements of a successful product page

Doing the job of the salesman — without the hype
Allowing quick comparison
Providing second opinions
Starting the purchase process

Navigating among products
Product descriptions

Best practices in writing and presenting product description
Layering product details
Layout considerations
Helping people make comparisons
Word choice boosts sales
Describing details and characteristics
Specification tables

User reviews and ratings

Visual elements for fast comprehension
Criteria to ask in reviews
Criteria to ask about the reviewer
Types of reviewers

Product images

Linking to and from images
Size, alternate views, detail, and composition
Communicating accurate information
Zoom tools

Price, costs and availability

How and where to show price
Relevant information related to cost

Specifying product options, like color and size

Naming the options
Indicating selected options
Color swatches
Multilevel lists and menus
Options that are not available
Error messages for non-selected options

Technical issues
Special considerations

Seating charts
Product customization