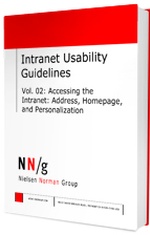 Part of the Intranet Usability Guidelines Series
There are many occasions when employees see only the homepage on the intranet. Use this report to make that experience count, and inform and include your whole organization. Understandable log in procedures can help ensure the safety of information, and personalization of content delivers the right information to the right employees for maximum efficiency. This report will help you engage and include employees on the homepage, derive positive access and login UI's so they can get their work done securely and efficiently.

This 165-page report contains 107 design recommendations based on our usability research. Discussions and 82 screenshot illustrations supplement the findings.
Topics
Engaging Intranet homepages

Types of homepages
Push tasks and knowledge on the homepage
People don't notice everything on the homepage
Intranet access, name, and address

Login, passwords, security

Address and login examples
Single sign-on
Remote access

Personalization and customization

Ideal personalization workflow
Increase productivity through role-based, personalized content

Promoting the Intranet
Improving response times