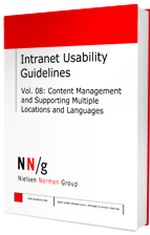 Part of the Intranet Usability Guidelines Series
A distributed content model, in which each department has content contributors, keeps information fresh and varied. The best intranets instruct people about how to post, edit, and maintain content.

The report also covers considerations in building an intranet that supports users in multiple locations—whether just down the halfway or around the world—as well as provides information in multiple languages.

This 141-page report contains 80 design recommendations based on our usability research. Discussions and 75 screenshot illustrations supplement the findings.
Topics
Content management

Approaches to content management
Types of intranet content
Managing multiple content contributors
Content management tools: positive and negative aspects of different tools
Assigning content responsibility
Reviewing and publishing

Forms for adding content

Specific, rigorous content entry forms: why offer controlled forms?
Elements of good content forms

Keeping content updated, unique, and organized

Content contribution: challenges and solutions
Instructing people to post, edit, and maintain content
Creating and posting content

International considerations

Managing content for diverse languages and cultures
Supporting local needs and international users
Determining whether to implement one centralized, or multiple intranets for each location
Helpful international features

Sample intranet guidelines