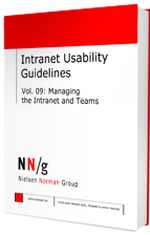 Part of the Intranet Usability Guidelines Series
Having clear goals, the right technology deployed well, and a fair-sized staff isn't just good governance, it's a winning recipe for a great intranet. But teams can work around any situation if they know how. Good templates, standards, and examples are invaluable, as is planning for organizational growth and change. Get a checklist of specific issues that can improve the governance of your intranet and your intranet team.
This 98-page report contains 29 recommendations based on our usability research. Discussions and 36 screenshot illustrations supplement the findings.
Topics
Getting support for intranet projects

Funding, monetary resources
Non-monetary help
Management support
Staff

Supporting the organization's tasks and culture

Intranet teams in the organizational context
Roles of team members

Planning and strategy for design and features

Cost benefit analysis of features
Defining intranet goals
Recommended design process for implementing new features
Third-party solutions

Most popular intranet features

The anti killer-app: Unpopular features
Taking inventory to improve the intranet

Deriving guidelines and standards

Templates
Best practices for your organization