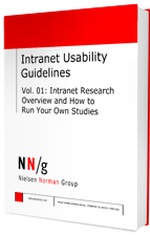 Part of the Intranet Usability Guidelines Series
Usable intranets increase employee productivity and involvement. Intranets with usability issues cause employees to waste time valuable time and can decrease employee satisfaction. Use the step-by-step procedures to conduct sound behavioral research on your intranet, and determine how to improve it. Compare the usability of your intranet with other intranets by using the data in this report.
This 127-page report summarizes the qualitative and quantitative findings from the whole report series. You will understand the strategic implications of our findings on how and why people use their intranet.
This report also identifies how we conducted our user research and generated the guidelines for this report series, including a summary of user demographics, how we briefed and interacted with users and the tasks administered.
Topics
Step-by-step instructions on how to conduct your own usability research
Quantitative measures

Success, time, and satisfaction measures
Success ratings
Task timings
Satisfaction ratings
Counting errors
Benchmarking productivity data
Comparing data from different studies
ROI from intranet usability

Qualitative observations

People do not spend much time using the intranet
Experience and environment affect intranet usage and usability

Intranet usability trends

Evolution of intranet design and organizational acceptance
Usability work is increasing
Expanding the types of usability activities

How to conduct your own usability studies

Can designers usability-test their own designs?
Tips for getting usability testing done
What to say (and what not to say) when participants arrive
When to do the tests
Involving stakeholders
Who should observe
Training and helping observers
Videotaping sessions
Where to conduct the study
Session logistics
Test procedure
Goals for qualitative sessions
Checklist
Facilitation notes

Recruiting participants

Determining the user profile
Job considerations
Years at the organization
Intranet experience
Web usage
Gender

Questionnaires

Pre-test questionnaire
Post-task questionnaire

Conducting field studies

Making observations and taking notes

Other usability activities

Frequently test iterations of new designs
Review usage log data and search log data
Analyze support desk calls and intranet feedback forms