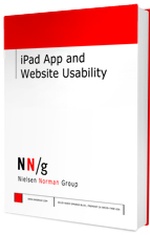 Learn how iPad users interact with apps and websites on their devices, and whether usability improves with time as people practice and learn new interfaces.
The design guidelines are based on 2 rounds of usability studies, conducted one year apart. We observed participants working on their own iPads to accomplish a broad variety of tasks.
Articles on research findings:
iPad Usability: First Findings From User Testing
iPad Usability: Year One
What's different between the 1st and 2nd Edition?
1st Edition: The study was conducted in 2010, immediately after the first iPad tablet became available to the public.
2nd Edition: We conducted a follow-up study in 2011 to study improvements in interface designs and changes in behavior as a result of exposure and practice.
We strongly recommend that you read the 2nd edition first, because it has the newest information and is based on testing more mature iPad apps.
Only bother downloading the 1st edition if you are very interested in tablet user experience. We keep it available because there are many interesting usability findings derived from our testing of early apps that were riddled with design mistakes (even the best designers didn't know any better at the time). If you read the 1st edition, you can avoid repeating those old mistakes.
Updated Tablet UX Research in New Report
These two iPad reports present historically important user research, but they don't contain our most recent findings about tablet usability.
Please see our separate report Tablet Website and Application UX for newer user research on how people use current tablet applications as well as how they use websites on tablets. This newer research includes testing on standard-sized iPads, iPad mini, many different Android tablets, and Windows tablets.