Why Consumer Products Have Inferior User Experience
Topics:
Summary: Physical products, from consumer electronics to cars, are needlessly complex because they're developed by insular companies that continue to ignore the growing usability trend.
Volkswagen has launched a $73,365 lemon called the Phaeton V-8A. The New York Times' reviewer had the following choice remarks about the car's usability:
"While not as maddening as BMW's iDrive," (faint praise indeed) the car's controls "are hardly user friendly."
"I found myself browsing menu after menu" trying to find where commands were hidden.
"I tried the Help button, but it was unhelpful."
The navigation system is "perhaps the poorest I've ever used," "exceedingly hard to program," and "largely uninformative."
Finally, adding insult to injury, the cup holders don't even work. The reviewer's water bottle "tumbled onto the floor a half-dozen times" during an initial drive. (At least this is not unique to VW; I've had similar problems with my Mercedes E420. German engineers don't believe in drinking and driving, even if you're drinking water.)
This sorry story emphasizes how usability has become mainstream and can drive a leading newspaper's review of big-ticket items. That said, when a new product that presumably spared no expense on design can ship with what is obviously substandard usability, the news is mainly bad.
BMW's Machine to Convert Loyalty to Disillusionment
Would that Volkswagen were the only big-ticket offender. I can personally confirm that BMW also has substandard usability; my wife had the misfortune of getting a 745i two years ago. Luckily, it's only a three-year lease, so we're now counting the days (347 left) until we can rid ourselves of the Beemer without losing money. We'll probably never buy BMW again, despite the fact that my wife was previously one of the company's most loyal customers. Having to use the BMW 745i daily has soured her on the brand forever. No amount of advertising can leave as strong an impression as a sustained user experience with a shabby product.
Here are just few examples of the BMW 745i's clueless interaction design:
Response times are incredibly slow. Each time you select something, you must wait several seconds for the next screen to appear. It's common to ridicule German engineers for their ignorance of customer needs, but no hardcore engineer should ever accept a slow computer for a high-end product. The hardware fails Geek 101. Slow response times mean that you must allocate more attention to operating the UI -- dangerous for an in-car user experience.
Clumsy task flows. When you program a destination for the route guidance system, for example, you are (slowly) taken to an additional screen where you must move the pointer to a command that actually initiates route guidance. I'd bet that the vast majority of people who enter a destination also want to drive there. The system should start by offering directions, and give those exceptional users who enter a destination that they don't want to drive to a command that turns the directions off.
Misleading mapping between input device and screen. In the screen to delete items from the destination list, you turn the knob left to make the cursor move right.
Obscure abbreviations. Although the designers have a fairly big screen at their disposal, they've littered the UI with commands like "DSC/DTC," "BC," "Avoid sect.," "WB," and "Recirc. air MFL." What they mean is anybody's guess. Better to spell out the commands when you have the space (for example, "Weather" instead of "WB").
Lack of situational awareness. Each time you use the GPS, you must laboriously spell out your destination, with many twists and turns of the input device. The system's design makes it equally easy (and thus equally difficult) to get directions to any U.S. city. Do you know how many American cities have names starting with "San"? But, given where we live, we almost always want to go to San Jose or San Francisco, and typically use GPS to find shortcuts to our local destinations. How often do Californians drive 1,755 miles to have lunch in San Marcos, Texas?
Different function, same look. The car has customized settings for the driver's seat, mirrors, and so on. These settings are tied to individual keys so that the car can adjust to specific drivers when they insert their key into the ignition. Great example of a non-command UI. The car comes with two keys, which is perfect for a two-driver household. Unfortunately, the keys look identical. It would have been so easy to add a different color or symbol to each key so that drivers could identify the key with their individual settings. But no. If the two drivers ever put their keys down on the same table, they're doomed; there's a 50% probability that they'd grab the wrong key.
Consumer Electronics Not Designed for Home Use
The following picture shows the remote controls for two common consumer electronics products for watching movies at home. Assume you're watching a film and the phone rings. How are you going to pause playback?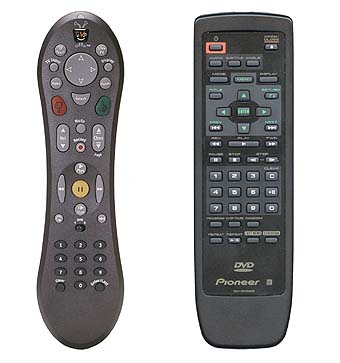 Remote controls for a TiVo DVR digital video recorder (left) and a Pioneer DVD player (right)
On the TiVo remote (left), the pause button is clearly visible. It's also easy to hit  because it's big and a reasonable distance from other buttons. On the Pioneer remote (right), locating the pause button is difficult and requires close inspection. Once found, it's hard to hit because it's small and tightly clustered among similar buttons. (See follow-up article on TiVo's UX design process.)
You might think I'm being unfair to the Pioneer remote's designers; after all, the pictures I've shown here are reduced using compression, which slightly blurs the button labels. Your current view of these two remotes, however, is vastly superior to that of many users.
People use these devices while watching movies or TV shows at home. Given this, two key elements of the user's situation are likely to be:
Wearing glasses for distance viewing, rather than reading
Low levels of lighting
Of course, a young designer whose vision hasn't yet started to deteriorate wouldn't have the first problem. And anyone reviewing design options in a brightly lit meeting room wouldn't have the second problem. Finally, professionals reviewing design proposals are likely to be sober, whereas many of their customers will be making a major dent in a six-pack, reducing both visual acuity and clarity of thought. If your customer base is likely to imbibe, you must design accordingly.
Sad to say, but almost all remote controls are designed like the one on the right in the photo above.
Why So Bad?
Examples of poorly designed consumer products are legion. Although there are a few good ones, most have bad-to-horrible usability for two reasons: lack of incentive and the lack of a usability culture.
In the past, manufacturers have had little incentive to emphasize usability. For physical products, customers have no user experience until after they've paid for the device. (In contrast, website customers get user experience up front: if a site's too difficult, they won't do business with the company, as they'll leave long before they get to the "buy" button.)
However, the usability incentive is increasing, even for physical products, as the New York Times review I quoted above exemplifies. Consumer Reports also rates product usability as one of its explicit review criteria these days.
Birth of a Usability Culture
TiVo is an example of a consumer electronics company that integrates usability methods during early product development, employing user testing and low-fidelity prototyping with mock-ups.
Why does TiVo get it while other consumer electronics vendors don't? My guess is that TiVo's usability advantage comes from being based in Silicon Valley. And, while it's possible that TiVo has grokked usability simply because my thought waves emanate as I pass its headquarters en route to my favorite Indian restaurant each week, the more likely explanation is that Silicon Valley has been permeated with the seeds of a usability culture over the past five years.
TiVo is a new company. When it started, they hired people who had worked in other Silicon Valley companies, some of which have usability labs. I know for a fact that one of TiVo's first user interface designers had seen the benefits of user testing on past projects.
Yes, the computer industry has terrible usability. Enterprise software is impossible to install and cumbersome to use. PC software is too complicated for most users. But most of these problems are due to legacy issues , where interaction designers are struggling to retrofit a decent user interface onto miserable software architected years before companies launched their usability groups.
To this day, Microsoft Office fails to offer a totally integrated user experience, even though Microsoft started selling its applications bundle as a suite in 1988. Word is from 1983, Excel is from 1985, and PowerPoint is from 1987 (and was originally an independent product from Forethought). Sixteen years of hard work, and the product's history still shows in its user interface, though it's getting better with every release.
Today, companies that develop computer products or new Internet services need a user experience strategy, just like they need an offshore strategy. Usability is simply one of the issues that executives are expected to care about. It doesn't mean that they do the right thing, or use the correct methods at every step. But it does mean that they can't ignore usability.
Also, because many existing Silicon Valley companies employ usability, companies without a usability tradition will often hire people who've experienced user testing in action in past jobs and will want it for their new products.
Consumer electronics companies, in contrast, have a history of ignoring user needs. A few cellphone companies do a bit of usability, but in most industries, usability is unheard of. These companies are narrow-mindedly insular, and populated with lifers: automobile engineers only talk to others in the car industry; people designing cable boxes only talk to others in the television industry. They never talk to interaction designers who know about screen-based user interfaces. And it shows.
As more products become computerized, some cross-fertilization is inevitable and even stagnant industries will hire people familiar with usability. Until this happens, reviewers will continue to expose difficult designs, and we'll all be forced to settle for buying the least-mediocre products.
Share this article: Twitter | LinkedIn | Google+ | Email
---