Designing Web Usability: The Practice of Simplicity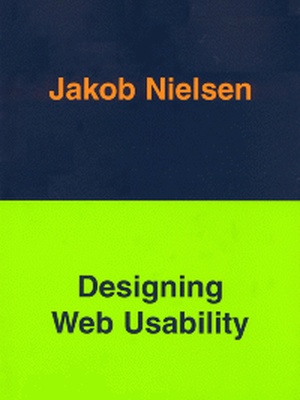 Over 250,000 Internet professionals around the world have turned to this landmark, definitive guide to usability. From content and page design to designing for ease of navigation and users with disabilities, Designing Web Usability delivers complete direction on how to connect with any web user, in any situation. 432 pages, full color illustrations. (New Riders Publishing.)
Please buy through these links: Amazon pays me a referral fee that doubles the share of the purchase price that goes to the author, giving me time off from other projects to write new books
Reviews and Articles About the Book
Educational Technology Blog: 10 Years of Web Usability (2010): "those chapters which focus on technique rather than technology are still relevant and many have become accepted practice."
boschatzberg.com (2009): ""For the most part, the guidelines in this book still apply today, even though the book was published in 1999. [...]This book is a must-read for anyone working on the web."
stevenclark.com.au (2008): "Well worth a read and still relevant and correct."
Weinberg's research blog (2008): "I'm glad I read this book. [...] Nielsen has a way of saying things very simply and clearly."
FlashMagazine (2002): "Surprisingly, as time goes by, "Designing Web Usability" becomes more useful [...] you will return to this book many times."
Builder.com (July 2001): "an undeniable standard ... this book is necessary for those who want to understand the Web and its users"
Rough Notes Magazine (May 2001): Designing Successful Web Sites: Put usability first; practice simplicity: "Scores of books purport to offer insight into successful Web site design. At least one actually does. ... It is recommended reading for agency principals and Web managers alike."
Free Pint Bookshelf (March 2001): "It is a testament to the usefulness of this book that it has lived beside my terminal at work for the last few weeks as I put the theory into practice."
Business Week: Jakob Nielsen's Gospel of Good Web Design (March 2, 2000): "should [...] be read by any executive with responsibility for managing online operations"
NewMedia (September 2000): Who Says Design Should be Simple?: "No one with whom I've spoken about Designing Web Usability has come away unaffected" [...] "the most important book of the year"
Danny Yee's Book Reviews (2000): "The most important book on web publishing yet to appear."
Linux ISO: " I couldn't put it [the book] down! The author, Jakob Nielsen, is entertaining, direct, and obviously not one to join the latest trend of the day."
Professional WebMaster Magazine (July/August 2000): "explains lots of factors that taken individually fall into the 'obvious' category and when juxtaposed in an intelligent fashion lead to a far deeper understanding of the subject than you would have been able to arrive at on your own"
Builder.com (July 2001): "an undeniable standard ... this book is necessary for those who want to understand the Web and its users"
Rough Notes Magazine (May 2001): Designing Successful Web Sites: Put usability first; practice simplicity: "Scores of books purport to offer insight into successful Web site design. At least one actually does. ... It is recommended reading for agency principals and Web managers alike."
Internet World UK (March 2000): "if the Web design company you are employing hasn't got a copy of this book on its shelves, you'll know to go somewhere else "
Free Pint Bookshelf (March 2001): "It is a testament to the usefulness of this book that it has lived beside my terminal at work for the last few weeks as I put the theory into practice."
Telecomwire (October 2000): "a must for any business who wants to create a strong online presence"
New Architect (August 2000): Keeping Sites Simple : "Nielsen has done a great service to the entire Web community by showing why simplicity in design is important, and by clearly explaining how to achieve it"
Digital Libraries Magazine (June 2000): "When I visit a hard-to-use site, it often seems clear that Nielsen's advice would have made the site easier to use. It's not that the web is inherently hard to use or that I can't figure out a particular site; the site's designers are to blame."
Slashdot (April 27, 2000): " well researched , sensible, and right on target [...] impressively concise and comprehensive"
Sydney Morning Herald, Australia, Science rules in Web design (April 3, 2000): "relentlessly sensible"
Ex Libris: E-Zine for Librarians and Other Information Junkies (March 10, 2000): "I can't think of a more valuable resource for both amateur and experienced webmasters"
Chicago Tribune, reading list about current technology (March 6, 2000): "Jakob Nielsen knows more about what makes Web sites work than anyone else on the planet "
WebReference Newsletter, December 1999: We interview the Web's usability czar about his new book and the Web's future
Author interview on Amazon.com , January 2000
Le Journal du Net (French August 2000): Conception de sites Web : l'art de la simplicité
PC World (Danish December 2001): Gode råd fra Nielsen
Advance Reader Comments on Designing Web Usability: The Practice of Simplicity
"Eighty gajillion things have been written about the Web. Do we need one more? Answer: Yes! If it's from Jakob Nielsen. Designing Web Usability: The Practice of Simplicity is a masterpiece. Jakob knows his stuff like, literally, no one else! This book is a pleasure to read. And invaluable. May simplicity rule!" --Tom Peters, Management expert, Bestselling author ( In Search of Excellence , The Circle of Innovation , et al)
"Jakob is hands down the most perceptive and articulate person working in this field today, and I was really looking forward to getting my hands on this. Needless to say, I wasn't disappointed. Designing Web Usability should go a long, long way in making the Web a far more appealing, effective and user-friendly medium. For the good of us all, let's hope every Web designer in cyberspace reads it!" Sam Vincent Meddis, Technology Editor, USATODAY.com
"With Designing Web Usability: The Practice of Simplicity , Jakob Nielsen proves what many of us thought after reading Usability Engineering -- his books are indispensable tools for Web site architects and designers. With Designing Web Usability , Nielsen offers a comprehensive overview of the practical problems to be solved in web sight design. He goes at the "what" and the "how." He explains in clear prose and describes using current examples of what is right and what is wrong with Web sites seen by millions. If you follow Nielsen's instructions carefully you will be rewarded with faster Web projects and satisfied Web customers. There is no reason to make the same mistakes others have made, and no reason to make your users frustrated by your Web site's design. Designing Web Usability goes a long way toward solving today's problems today." Henry Lichstein, VP, Citibank
"Through the use of both good and bad examples with an easy-to-read style, Jakob does a great job exploring Web site design and navigation from a management perspective. The fully e-commerce-enabled site of the future needs to pay attention to the non-monetary forms of currency (time, attention, trust & convenience). This book can help show you the way." Mitchell Levy, President, ECnow.com, Executive Producer, ECMgt.com
"The web design tips in this book are practical - it is based on research rather than opinion and presented in an accessible way. Most every web design question I've heard lately is addressed in this book. The web sites used as examples help ground the guidelines in reality - a corporate site, intranet, e-commerce, or application site could all benefit from this wisdom. This is a great way to avoid the mistakes that other sites have made without replicating them oneself!" Stacey Ashlund, Usability Manager, Infoseek (part of the GO Network)
"This text is a must-read for anyone involved with site design." N.J. Stoyanoff, Ph.D., Director of E-Business, Ogilvy & Mather
"Jakob Nielsen's timing is perfect. The explosion of the Internet has produced a myriad of ways to design and present Web-based content. By focusing on the user experience, these guidelines map the way to happier customers , brand loyalty, and success on the Web for businesses of every kind." Raymond G. Nasr, Director, Office of Corporate Affairs, Novell, Inc.
Table of Contents
Preface
Preface to the 7th printing of the book
1. Introduction: Why Web Usability?
Art Versus Engineering
A Call for Action
What This Book Is Not

Bad Usability Equals No Customers

Why Everybody Designs Websites Incorrectly
2. Page Design
Screen Real Estate
Cross-Platform Design

Where Are Users Coming From?
The Car as a Web Browser
Color Depth Getting Deeper
Get a Big Screen
Resolution-Independent Design
Using Non-Standard Content
Installation Inertia
Helpful Super-Users
When Is It Safe to Upgrade?
Collect Browsers

Separating Meaning and Presentation

Platform Transition
Data Lives Forever

Response Times

Predictable Response Times
Server Response Time
The Best Sites Are Fast
Speedy Downloads, Speedy Connections
Users Like Fast Pages
You Need Your Own T1 Line
Understanding Page Size
Faster URLs
Glimpsing the First Screenful
Taking Advantage of HTTP Keep-Alive

Linking

Link Descriptions
Link Titles
Guidelines for Link Titles
Use Link Titles Without Waiting
Coloring Your Links
The Physiology of Blue
Link Expectations
Peoplelinks
Outbound Links
Incoming Links
Linking to Subscriptions and Registrations
Advertising Links

Style Sheets

Standardizing Design Through Style Sheets
WYSIWYG
Style Sheet Examples for Intranets
Making Sure Style Sheets Work

Frames

<NOFRAMES>
Frames in Netscape 2.0
Is It Ever OK to Use Frames?
Borderless Frames
Frames as Copyright Violation

Credibility
Printing
Conclusion
3. Content Design
Writing for the Web

The Value of an Editor
Keep Your Texts Short
Copy Editing
Web Attitude
Scannability
Why Users Scan
Plain Language
Page Chunking
Limit Use of Within-Page Links

Page Titles
Writing Headlines
Legibility
Online Documentation
Multimedia

Waiting for Software to Evolve
Auto-Installing Plug-Ins

Response Time
Images and Photographs
Animation

Showing Continuity in Transitions
Indicating Dimensionality in Transitions
Illustrating Change Over Time
Multiplexing the Display
Enriching Graphical Representations
Visualizing Three-Dimensional Structures
Attracting Attention
Animation Backfires

Video

Streaming Video Versus Downloadable Video

Audio
Enabling Users with Disabilities to Use Multimedia Content
Three-Dimensional Graphics

Bad Use of 3D
When to Use 3D

Conclusion
4. Site Design
The Home Page
How Wide Should the Page Be?
Splash Screens Must Die
The Home Page Versus Interior Pages

Deep Linking
Affiliates Programs

Metaphor

Shopping Carts as Interface Standard
Alternative Terminology

Navigation

Navigation Support in Browsers
Where Am I?
Where Have I Been?
Where Can I Go?
Site Structure
The Vice-Presidential Button
Importance of User-Centered Structure
Breadth Versus Depth

The User Controls Navigation

Design Creationism Versus Design Darwinism
Help Users Manage Large Amounts of Information
Future Navigation
Reducing Navigational Clutter
Avoid 3D for Navigation

Subsites
Search Capabilities

Don't Search the Web
Micro-Navigation
Global Search
Advanced Search
The Search Results Page
Page Descriptions and Keywords
Use a Wide Search Box
See What People Search For
Search Destination Design
Integrating Sites and Search Engines

URL Design

Compound Domain Names
Fully Specify URLs in HTML Code
URL Guessing
Beware of the Os and 0s
Archival URLs
Y2K URL
Advertising a URL
Supporting Old URLs

User-Contributed Content
Applet Navigation

Double-Click
Slow Operations

Conclusion
5. Intranet Design
Differentiating Intranet Design from Internet Design
Extranet Design
Improving the Bottom Line Through Employee Productivity

Average Versus Marginal Costs

Intranet Portals:
The Corporate Information Infrastructure

Get Rid of Email
Intranet Maintenance
The Big Three Infrastructure Components: Directory, Search, and News

Intranet Design Standards

Guidelines for Standards
Outsourcing Your Intranet Design

Managing Employees' Web Access

Hardware Standards
Browser Defaults
Search Engine Defaults

Intranet User Testing

Field Studies
Don't Videotape in the Field

Conclusion
6. Accessibility for Users with Disabilities
Web Accessibility Initiative

Disabilities Associated with Aging
Assistive Technology

Visual Disabilities
Auditory Disabilities
Speech Disabilities
Motor Disabilities
Cognitive Disabilities
Conclusion: Pragmatic Accessibility
7. International Use: Serving a Global Audience
Internationalization Versus Localization
Designing for Internationalization
International Inspection

Should Domains End in .com?

Translated and Multilingual Sites

Language Choice
Make Translations Bookmarkable
Multilingual Search

Regional Differences
International User Testing

Overcoming the Language Gap
How Many Countries Should You Test?
Thanking Your Participants

Methods of Testing

Travel Yourself
Add a Few Days to Your Stay
Remote User Testing
Usability Labs for International Testing

Self-Administered Tests
Conclusion
8. Future Predictions: The Only Web Constant Is Change
The Internet Is Hard
Long-Term Trends

The Anti-Mac User Interface

Information Appliances

Drawing a Computer
The Invisible Computer
WebTV
Designing for WebTV

Death of Web Browsers
Slowly Increasing Bandwidth
Metaphors for the Web

Different Media, Different Strengths
The Telephone
Telephone Usability Problems
Contact Tokens
The Television

Restructuring Media Space: Good-Bye, Newspapers

Media Distinctions Caused by Technology

Conclusion
9. Conclusion: Simplicity in Web Design
Recommended Readings
History of the Book Title
For a long time, the working title for this book was Designing Excellent Websites: Secrets of an Information Architect, but we finally decided that this title was too convoluted (as well as illogical: once you print 250,000 copies of something, it's not exactly a "secret"). For the final title, simplicity rules as that is the core message of the book.
Also Translated Into
Bulgarian
Czech
Finnish
Greek
Hebrew
Hungarian
Korean
Norwegian
Portuguese
Russian
Serbian
Swedish
Translations
Bulgarian
ISBN 954-685-189-2

Web 可用性设计
ISBN 7-115-08726-1

Czech
web.design
ISBN 8086497275

Godt webdesign
ISBN 87-7843-479-3

Functioneel webdesign: De kracht van eenvoud
ISBN 90-430-0383-2

Finnish

WWW-Suunnittelu - Käytettävyys
ISBN 951-826-203-9

Conception de sites Web:
L'art de la simplicité
ISBN 2-7440-0887-7 (1st edition)
ISBN 2-7440-1865-1 (2nd edition)

Erfolg des Einfachen
ISBN 3-8272-5779-4 (1st edition)
ISBN 3-8272-6206-4 (2nd edition)
ISBN 3-8272-6846-X (3rd edition)
The second edition is a new translation and uses the "standard" blue-green cover. I preferred the German title used for the first edition, so I am still showing a scan of the first edition here. Except for the title, it's obviously recommended to buy the third edition and get the benefits of the improved translation.

Hebrew
ISBN 965-361-274-3

Hungarian
Web-design
ISBN 963-9326-26-7

Italian at Apogeeonline.com
Web usability: La pratica della semplicità
ISBN 88-7303-686-4

Japanese at Amazon.co.jp
ウェブ・ユーザビリティ―顧客を逃がさないサイトづくりの秘訣 [単行本

ISBN 4-8443-5562-7

Korean
ISBN 89-7059-161-3

Norwegian
Funksjonell webdesign
ISBN 82-412-0528-7

Polish at Helion.pl
Projektowanie funkcjonalnych serwisów internetowych: Prostota funkcjonalność ergonomia
ISBN 83-7197-928-2

Portuguese (Brazil)
Projetando Websites: A Prática da Simplicidade
ISBN 85-352-0656-6

Russian
ISBN 5-93286-004-9

Serbian
Dizajn funkcionalnih Web strana: U potrazi za jednostravnim
ISBN 86-7991-139-9

Spanish at Amazon.com
Usabilidad: Diseño de sitios Web
ISBN 84-205-3008-5

Swedish at Prisjakt.nu
Användbar Webbdesign
ISBN 91-47-03612-5
Errata
You can tell what printing you have as follows:
Locate the copyright page (page ii , but it's not numbered: this is on the back of the title page which shows the book name in color and just across from the "Contents at a Glance" page)
On the middle of the page is a line of numbers looking like this:
03 02 01 00 7 6 5 4 3 2
The rightmost number on this line indicates the printing (the above example would be for the second printing).
Addendum to 3rd, 4th, and 5th Printings
Page 330, figure caption:
There are also problems with the spelling and accents for German and Spanish; the use of Simplified Chinese characters will cause difficulties for users in Hong Kong and Taiwan. This latter issue is particularly important: when we run usability studies that involve Chinese users, we always try to include both Simplified and Traditional regions (assuming a written interface; auditory interfaces obviously have to include Mandarin, Cantonese, etc.).
Errors in 2nd and 1st Printing (Fixed in 3rd Printing)
Page 34, figure caption: slope of recent transitions is 1% per week , not per year.
Pages 40-41: Figure captions are reversed. Page 40 shows Internet Explorer 3.01 and page 41 shows Netscape 4.01.
Page 209: Figure caption refers to a different example than the one used in the book. Correct caption: "In this example, I was interested in HTML tools for web design, and a click on that option would give me a list of the tools. But the display provides additional breadth by also showing me the other types of web design tools discussed on the site. Stepping up one level takes us further from the user's current interest, so less breadth is provided. The third column indicates that more information is available about other Internet-related issues, but these topics are not described in as much detail as the Web design tools. Going one step farther up, the second column lists other computer-oriented topics, but this level is described at a very coarse level of granularity."
Also, some smaller typos were found and corrected.
Errors in 1st Printing (Fixed in 2nd Printing)
Page 35: The word "gizmo" is missing from the second paragraph.
Page 395: The names of Louis Rosenfeld and Peter Morville are misspelled. My apologies to Louis and Peter! This is twice as embarrassing because these guys are my good friends.
Also, many smaller typos were found and corrected.