Mobile Usability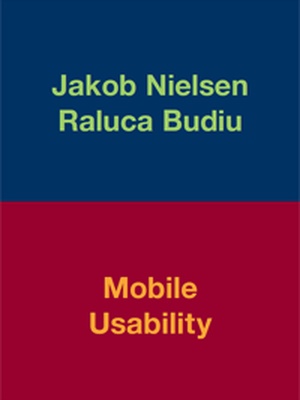 New Riders Press
ISBN-10: 0-321-88448-5
ISBN-13: 978-0-321-88448-0
How do we create a satisfactory user experience when limited to a small device? This new guide focuses on usability for mobile devices, primarily smartphones and touchphones, and covers such topics as developing a mobile strategy, designing for small screens, writing for mobile, usability comparisons, and looking toward the future. The book includes 228 full-color illustrations, mainly site/app screenshots with analysis of why they work or don't work for mobile users. Based on expert reviews and international studies with participants ranging from students to early technology adopters and business people using websites on a variety of mobile devices, this guide offers a complete look at the landscape for a mobile world.
Buy directly from the publisher, including the option of downloading a PDF version.
(PDF works if you have a big enough monitor to see a two-page spread at once at full size. Otherwise, we recommend the printed version, since this book was designed with tight integration between text and images and doesn't read as well if you can only see part of a page spread.)
Table of Contents
Preface

Why Mobile Is Different
Screen Shots Are Examples Only
Our Research: How We Ran the Usability Studies

Diary Studies
Usability Testing
Qualitative User Research

Mobile Strategy

Usability Varies by Mobile Device Category
A Separate Mobile Experience Is Best
Mobile Site vs. Full Site

Mobile-optimized Sites
Why Full Sites Don't Work for Mobile Use
Mobile Is Less Forgiving than Desktop
Responsive Design
Usability Guidelines Are Rarely Dichotomies

Mobile Sites vs. Apps: The Coming Strategy Shift

Current Mobile Strategy: Apps Best
Future Mobile Strategy: Sites Best
When Will the Strategy Shift Happen?

Mobile Apps
Mobile Apps Are Intermittent-use Apps
Half-speed Progress, But Hope Ahead

Designing for the Small Screen

Wasted Mobile Space

Chrome
Overloaded vs. Generic Commands
Case Study: Optimizing a Screen for Mobile Use

Typing on Mobile
Download Times
Early Registration Must Die
Example: Pizza Ordering Application
Case Study: The WSJ Mobile App

Confusing Startup Screen
Degrading the Brand
A Better Design
A New WJS Workflow
Better Next Year

Writing for Mobile

Mobile Content Is Twice as Difficult
Why Mobile Reading Is Challenging
If in Doubt, Leave It Out

Filler = Bad
Old Words Are Best
Bylines for Mobile Content?

Defer Secondary Information to Secondary Screens

Example: Mobile Coupons
Example: Progressive Disclosure in Wikipedia
Deferring Information = Initial Info Read More

Mini-IA: Structuring the Information About a Concept

Linear Paging? Usually Bad
Alphabetical Sorting Must (Mostly) Die
Example: Usage-relevant Structure
Usage-driven Structure

Tablets and E-readers

iPad Usability

Tablets Are Shared Devices
What Are iPads Used For?
The Triple Threat of iPad Design
Inconsistent Interaction Design
The Print Metaphor
Card Sharks vs. Holy Scrollers
Swipe Ambiguity
TMN: Too Much Navigation
Splash Screens and Startup Noises
Orientation
Toward a Better iPad User Experience

Kindle Usability

Kindle: The E-reader
Kindle Fire Usability

Looking Toward the Future

Transmedia Design for the Three Screens
PCs Will Remain Important
The Third Screen: TV
Transmedia User Experience
Beyond Flatland
In the Future, We'll All Be Harry Potter
Next-generation Magic
Don't Harm the Muggles
Appendix: A Bit of History

Field Study in 2000
WAP Doesn't Work
Déjà Vu: 1994 All Over Again
Mobile Killer App: Killing Time
Background Information
Mobile Usability is Jakob Nielsen's first book that's fairly short (216 pages). This makes it cheap and increases the likelihood that readers will complete the full book.
The low page count was possible for two reasons:
Because of the nature of mobile screens, the screenshots are small, allowing us to fit in 228 illustrations without bloating the page count.
Our discussion of basic topics focuses on how they are different in the mobile domain and does not provide full coverage of all our web usability findings. For the background information about "normal" website topics like information architecture (IA), navigation, menus, information foraging, information scent, affordances, writing for online, search, product information and checkout, and more, please see our other book Prioritizing Web Usability.