Consistency in the Cross-Channel Experience
Topics:
Summary: A consistent user experience, regardless of platform, is one of the 4 key elements of a usable omnichannel experience. Consistency across channels helps build trust with customers.
Users engage with companies and organizations across many channels, including the web, email, mobile devices, kiosks, online chat, and by visiting physical locations (such as storefronts or service centers). For these interactions to be smooth, the visual design, tone of voice, labels and nomenclature need to be consistent across channels. 
Our user research on Cross-Channel User Experience identified 4 key elements of a usable cross-channel experience:
The following article discusses why consistency is important in the cross-channel experience.
The Importance of Consistency in the Cross-Channel Experience
As users move from channel to channel to complete a specific task or many different tasks over time, they are exposed to the visual design, functionality, interactions and overall tone of voice of the company or organization. Creating consistency across these disciplines, regardless of channel, helps users build expectations for future interactions with the organization. Users crave consistency and companies that can provide consistent experiences across channels will quickly earn users' trust.
When a user in our cross-channel study was asked to give advice to companies designing experiences across multiple channels, he said "Be consistent. Your in-store service translates over all other platforms. If I have a bad experience in store, for example, I'm a lot less likely to order anything from you online and vice versa. Your brand is as good as my last poor experience with you."
JetBlue has a consistent user experience across channels. The visual design and tone of voice are persistent, and users can complete most tasks, such as booking a flight, checking in to a flight, and choosing a seat, from any channel.
JetBlue's website includes a persistent use of the brand's color and tone of voice. The playful and conversational tone of voice matches the bright and cheery visual design. Common activities, such as booking a flight or checking in, are available from the homepage or the main navigation.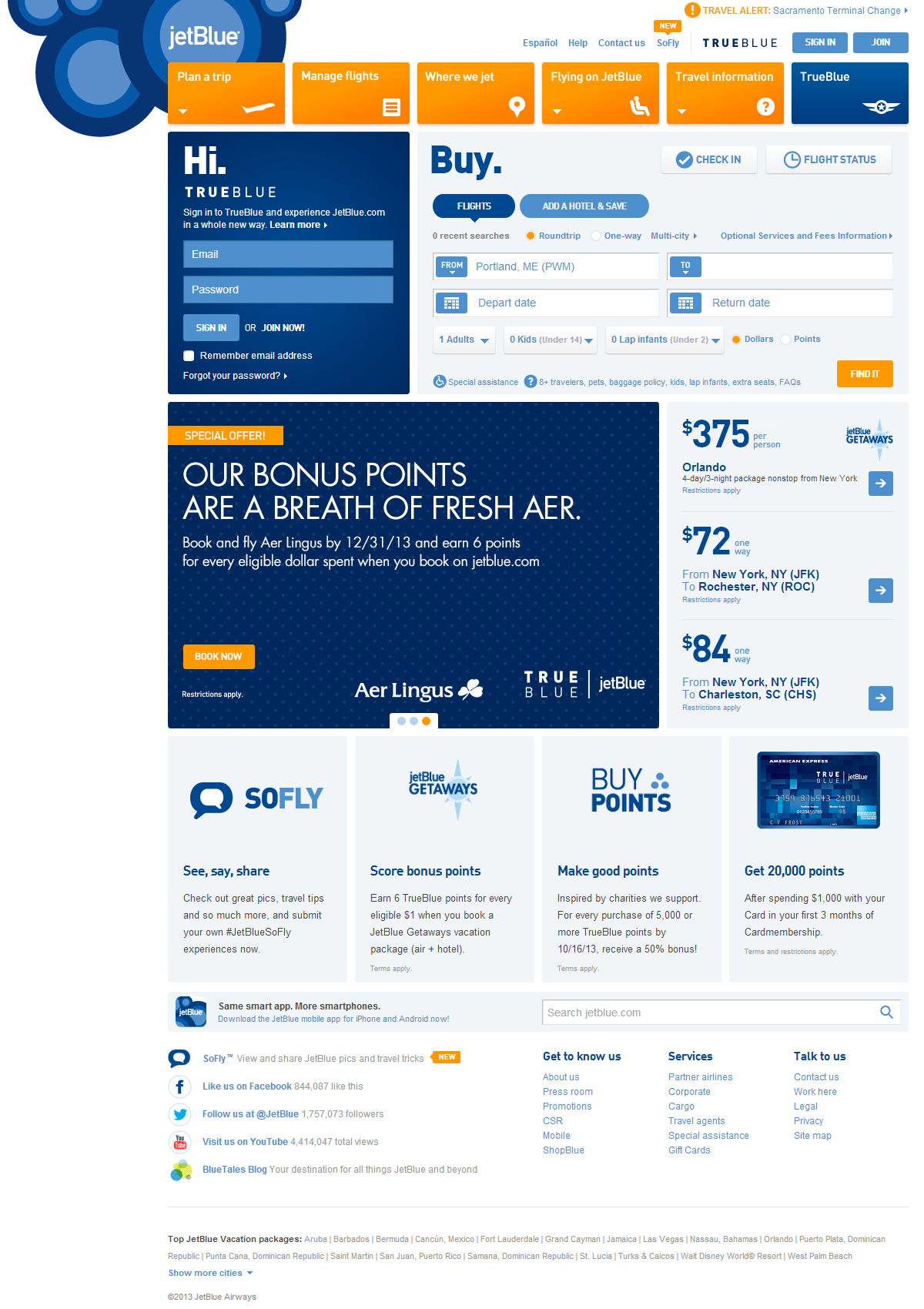 JetBlue's website has a playful visual design and tone of voice and provides easy access to common tasks.
After a flight has been booked, the confirmation-email's look and feel and its tone of voice are consistent with the website. Also, links to common tasks, such as checking in, choosing a seat, and getting information about checked bags and carry-ons, are available via links in the email.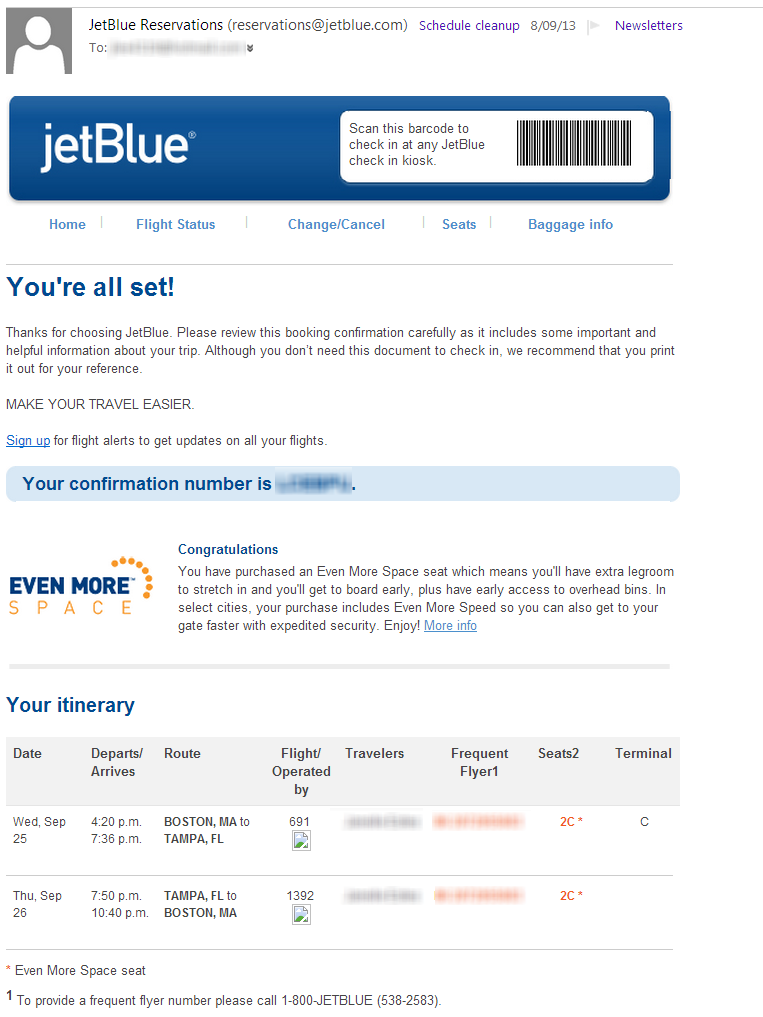 The confirmation email received after booking a flight is consistent with the look and feel, tone of voice, and common interactions on other channels.
JetBlue's mobile app is also congruent with other channels' visual design, tone of voice, and interactions. Users are able to check in, choose seats, and book flights (as well as other activities) using the application.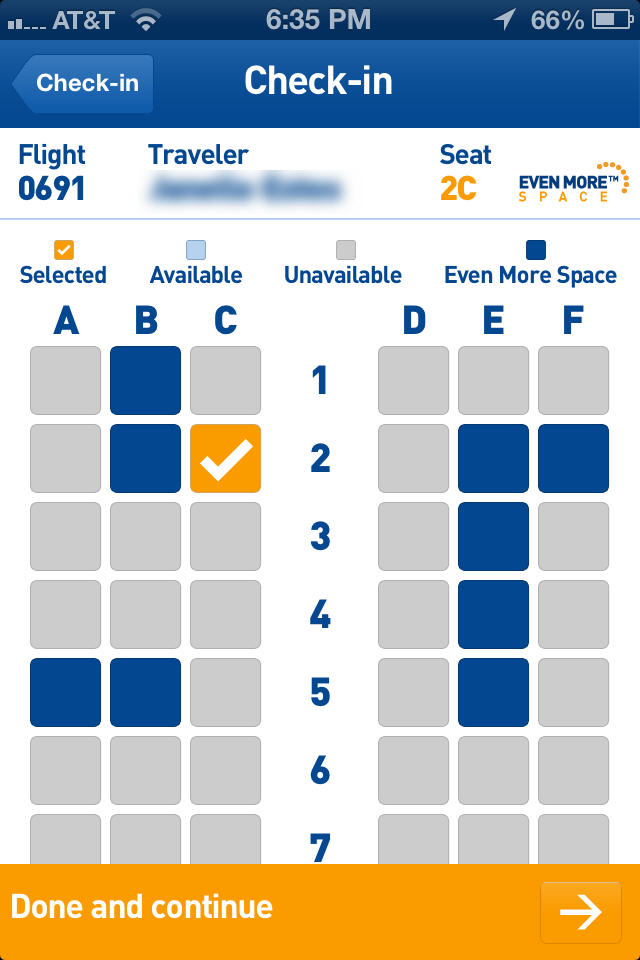 The experience of using JetBlue's mobile application is congruent with other channels, such as the web, email, and the airport kiosks.
Elements from the online, email, and mobile JetBlue experience carry over to the airport. The use of playful language and design on the kiosks is familiar. Common actions, such as choosing a seat and checking bags, are available from these kiosks.
JetBlue's airport kiosks provide an experience consistent with other channels.
Finally, as users settle into their seats on the plane, they are greeted by messages from JetBlue on the TV. These messages match the visual design and tone of voice experienced on other channels.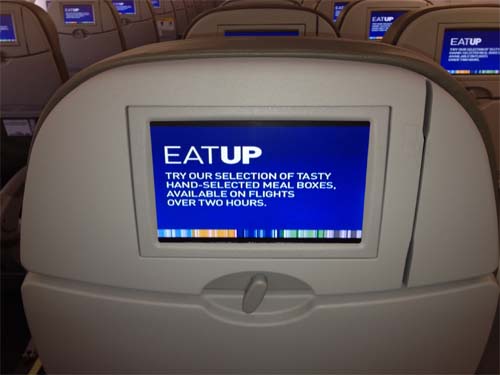 The JetBlue user experience is carried through to the flight, where messages displayed on TVs are consistent with other channels.
Consistency: 1 of 4 Recommended Cross-Channel Characteristics
As companies and organizations design for the larger user experience, it's important to consider consistency across all channels. Consistent experiences help users build trust with the organization. Each interaction is part of the overall user experience with a company. If the user experience isn't consistent across channels, users will question the organization's credibility.
In addition to being consistent, cross-channel experiences must be seamless, available and optimized for the channel. Our full day course on Omnichannel Journeys and Customer Experience covers these recommended characteristics further.
Share this article: Twitter | LinkedIn | Google+ | Email
---