Mobile Intranet Design
Topics:
Summary: Supporting field staff and mission-critical apps are core reasons to take enterprise computing mobile, but users also value access to news and internal social networks.
Enterprise computing came late to the mobile party, but it's finally arriving. We started seeing a few mobile intranets among the Intranet Design Annual winners as early as 2010, but for several years only 20–30% of winning intranets had a mobile component.
Mobile intranets are still not as overheated as consumer-facing mobile websites and apps — which is probably all for the good. But at least enough mobile intranets now exist to let us generalize across projects and advise on design trends for mobile enterprise applications and content. To do so, we surveyed more than 200 mobile intranet projects and conducted in-depth case studies with 9 of them.
Among the mobile intranet apps we encountered were those aimed at:
Inventory management
Customer records lookup
Presentations, room calendars, contact lists, and electronic visit reports
Class schedules (for students and teachers)
Scheduling and tracking medical activity
Support tickets and inventory lookup (for field engineers)
Updating staff about policy changes, payments, and so on
Besides such mission-critical applications, mobile intranets were also frequently used for news updates and for internal social networking among employees.
(It's no big surprise that social features are big for mobile intranet access, because social features to enhance employee connections are known to be big on in-office intranets. However, mobile social features require a new design, as public-facing social networks like Facebook have learned the hard way.)
Multi-Device Support
Our first conclusion? The days of monoculture enterprise computing are over, at least in the mobile space. On average, projects optimized their designs for 2.2 different platforms. Not surprisingly, iOS and Android were the two big ones, with a smattering of additional support for Windows Mobile and other platforms.
Many companies have adopted BYOD (Bring Your Own Device) policies, in which employees access company content on their own mobile devices rather than on a company-issued one. This trend is obviously a major reason that mobile intranets can't be designed for a single device the way enterprise applications were in earlier times.
Low Budgets Drive Partial-Function Mobile Sites
Most mobile intranets are developed on a shoestring; the following chart shows average budgets for companies of different sizes: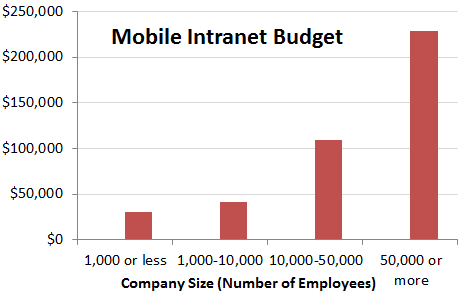 Although organizations with more than 50,000 employees spent an average of $228,000 on their intranet's mobile version, smaller companies didn't spend nearly as much. For mid-sized companies of 1,000–10,000 employees, the average was only $42,000, which is insufficient for any serious development effort.
Partly because of the low budgets and partly because of the need to support multiple platforms, most companies chose to provide a mobile intranet site as opposed to developing a full-fledged mobile application. Only 27% of companies offered a full-featured mobile intranet with the same features as their desktop version. The vast majority of companies offered either limited functionality or different functionality targeted at field staffers who rarely used desktop computers.
Indeed, the biggest motivation for offering a mobile intranet in the first place was to support people in the field — a reason cited by 79% of the projects we surveyed.
For example, ZON's mTec supports the company's field technicians as they make house calls. Similarly, SEI built its Mobile Field Service Ticketing web-based application to support the company's field service engineers who repair equipment in data centers. CommunicateHealth's Show Me (native app) helps first responders in emergency situations communicate with people who have communication challenges. And Applified's 12View (native app) is about as specialized as they come: it lets municipal inspection teams use Android tablets to check and report on sewer system incidents and maintenance activities from above ground.
The two runner-up mobile intranet goals — mentioned by 51% and 49% of respondents, respectively — were to keep pace with user expectations and improve employee productivity. To truly meet these goals, however, bigger budgets and better mobile user experience will be needed.
A reduced, targeted mobile feature set is not necessarily bad, however. As one respondent said, "People liked 'less.' Simplifying down to just a few options helped people not get confused by having a new interface, which would be scary for doctors."
Design to Reduce Errors and Boost Productivity
Many of the design considerations for mobile intranets are similar to guidelines for mobile website usability. However, the mission-critical nature of many enterprise applications sharpens the focus on two needs: avoiding errors and improving productivity. Following are seven strategies that can help you do both.
1. Plan for offline viewing during connectivity outages. Even in major metropolitan areas, cellular connectivity is sometimes tenuous; multinational corporations and NGOs with staff in developing countries can also face poor service quality. To address this, it's important to design sites and apps that store data, save state, and remember what users are doing when signals drop. Examples from our study here include Suma, which designed its app to accommodate users who might lose signals between the library stacks, and Show Me, which assumes emergency workers might lose signals during natural or other disasters.
2. Optimize load times. On mobile, pages must be both great and lightweight. Minimizing server calls is critical for users who face decreasing bandwidth and increasing mobile charges.
3. Recognize that, even for the most proficient practitioners, typing on glass is no picnic. Create task flows that minimize data input whenever possible. Letting users select from a list, search a set list of options, or receive auto-suggestions can help them enter information more easily. ZON designed its mTec search with type-ahead functionality rather than offering users a long list of options. This reduces the burden for mobile users, leaving data-entry intensive work for when they're in the office.
4. Design workflows for common tasks. Doing this forces the design team to fully analyze the steps and task order required to complete the work. Creating logical flows that lead users down a path reduces the burden on them. In our survey, several teams ran into problems when the process they were trying to recreate in a mobile site or app was broken to begin with. If an offline or desktop-based workflow isn't streamlined or logical, a mobile design based on it won't be either. In these cases, it's best to redesign the process first, and then take it mobile.
5. Do the work for the users by making smart assumptions where possible. This is often easier in the constrained enterprise environment than on the open web, where people can do anything. For example, the Show Me app is targeted at first responders who are working within a specific emergency situation and is designed to drive users through one emergency situation at a time. The app also remembers the selected scenario for 24 hours so users don't have to log in each time.
6. Ensure that the design team focuses on specific decisions, such as font size and how much text to display on every screen. Several teams realized during testing that bigger was better for type size. This forced them to make detailed design decisions — such as whether to show a full headline or product name or show a truncated label; when to use an ellipsis; and how many icons or news stories can fit in a row.
Some companies use icons and color-coding as shortcuts for text. For example, ZON's 4Sales mobile design uses colors to indicate "on time" vs. "late." 12View is an inspection-support application for the Netherlands' largest sewer cleaning organization. In this environment, people don't want to read too much, so the app uses icons in the mobile interface to represent codes that are spelled out in the desktop view. (In contrast to this enterprise scenario, using unlabeled, nonstandard icons often causes usability problems when designing for the general public, where you have to assume zero training time.)
7. Writing for mobile poses a related challenge: we know that mobile content must be short, and mobile intranets have a huge advantage compared with public sites or apps in the ability to teach conciseness to on-staff writers. Splash, for example, encourages employees to create "bit-sized" content and has revised its company style guide to reflect best practices in mobile communications.
Hiding content behind an extra tap can also help; such progressive disclosure means that only users who want more details will get them. For example, to minimize download time, 12View shows only 10 nearby locations by default, focusing on revealing information as needed (digging deeper). mTec relies heavily on progressive disclosure as well, and Show Me gives users each scenario's most useful icons by default and also offers a quick list of the 10 most recently used icons. However it is implemented, the key to progressive disclosure is to ensure that you don't hide information that all users need behind an extra step.
Applied properly, these  recommendations can help you avoid the design pitfalls of mobile enterprise applications and meet your organization's user productivity goals.
Mobile content and mission-critical applications are a new frontier for both enterprise computing and mobile user experience. We now have some good designs that are worth emulating, but the mobile intranet still doesn't get sufficient management support in most companies. It's not a fad; it's a tool.
More Details About Mobile Access to Intranets
The 237-page report Mobile Intranets and Enterprise Apps is available for download.
Share this article: Twitter | LinkedIn | Google+ | Email
---