Traveling Usability Lab
Topics:
Summary: User testing can be done anywhere; witness our international studies, carried out with equipment that fit in a carry-on bag.
It almost doesn't matter where you conduct user testing. If you're lucky, you have a fancy usability laboratory with multiple cameras and one-way mirrors. The key benefit of such labs is the ability to stick observers in a separate observation room and leave the user and facilitator alone to concentrate on the test tasks.
The #1 method for evangelizing usability is to get as many stakeholders as possible to personally observe real users. A good usability lab with a comfy observation room (well-stocked with snacks) encourages an invaluable side effect of user testing: designers, developers, and managers become emotionally invested in fixing usability problems they have seen themselves.
What should you do if you don't have a lab? After all, dedicated lab space usually appears only after a company has reached stage 5 on the 1–8 scale of corporate UX maturity.
Luckily, user testing can be done anywhere, as long as you can close the door and ensure the privacy and focus of your study participant. Some of the more common locations for user testing include:
Conference rooms
Private offices
Rented space in "office hotels"
Hotel meeting rooms
Airport lounges (assuming you can book a boardroom-style space)
Tradeshow booths (ideally in a booth with a private back room, though you can do short 5-minute tests standing at a demo station in the back of a regular booth)
Company cafeterias
Coffee shops (not the Amsterdam kind :-)
The key elements in user testing are the facilitator's skill in drawing out user behavior without biasing the user, and the facilitator's analytical skills in determining valid and useful design conclusions from observations of this user behavior. These two crucial points don't depend on the specific location or on having lots of advanced equipment at hand.
Portable Lab Equipment
Nielsen Norman Group runs many international studies and often tests at client locations. For the vast majority of our user research, the equipment fits in a carry-on bag.
Here are photos of the set-up for our study in Sydney, Australia, last month: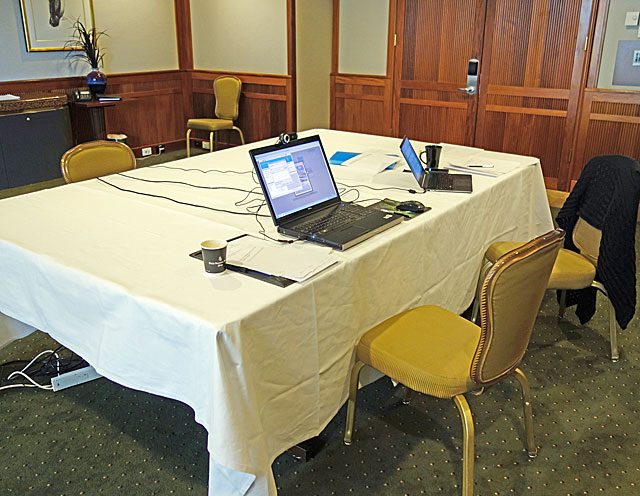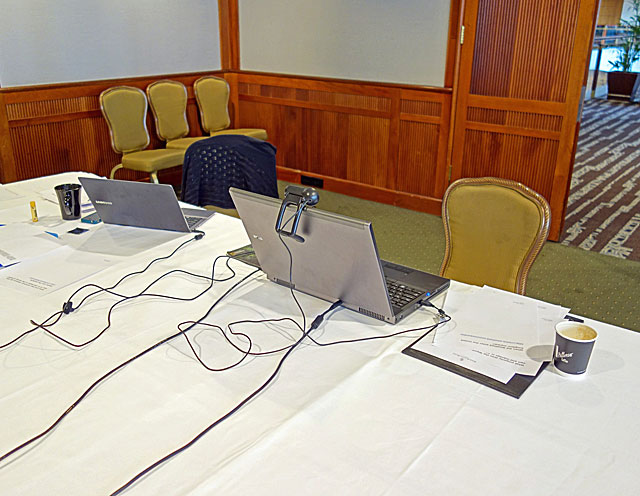 The equipment:
a big laptop for the user;
a small laptop for the facilitator;
a webcam to record the user's thinking aloud comments and facial expressions; and
a real mouse for the user (we don't want users to have to struggle with a touchpad to click links).
That's all. We ran this study at our conference hotel, and they provided the coffee cups.
The user laptop should be hefty for three reasons:
A good, full-sized keyboard encourages users to type as much as they want with minimal typos.
A large screen ensures that even middle-aged or older users can see the information.
There's sufficient computer power to run whatever websites or applications users encounter while still having leftover capacity to run Morae (the screen-recording software we use).
The big screen also allows an additional observer (besides the facilitator) to sit slightly behind the user and still see what's on the screen. You want the observer to be out of sight—and out of mind—as far as the user is concerned.
(Unfortunately, when testing mobile devices, we need a bit more equipment. Although users typically bring their own phones and tablets, we need a fancier camera to capture the small screens. That camera requires a bag of its own, so we usually ship it ahead of time.)
Testing in Progress—Keep Out
Here's one more artifact from the Sydney study: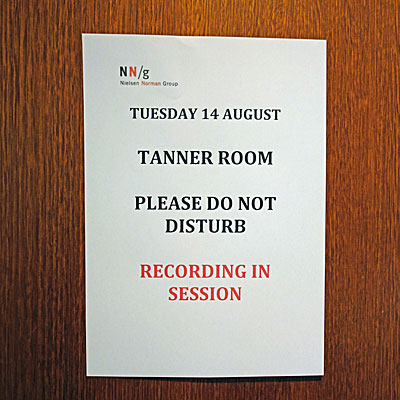 We stick a sign like this on the door when we test in locations that are unaccustomed to usability studies and their associated protocols. We really don't want the hotel staff to interrupt the study; nor do we want people wandering the hallways looking for other meetings to poke their heads into our room.
If you conduct user testing at your company, it might be nice to have the sign say something like, "Usability Study in Progress." This will give you a bit of internal PR, as colleagues pass the conference room and note that you're doing more testing.
But when you test in hotels or other outside locations, it's too much to assume that anybody will understand what "usability" is or why it's bad to disturb a test user during a study. We therefore go with "Recording in Session," which everybody understands. People might even be quiet as they pass the room.
Accommodating More Observers
For international testing, you're lucky if the client will invest in flying out one observer. Still, it's sometimes nice to be able to accommodate multiple observers, who can't all squeeze in behind the user's chair.
In such cases, one option is to hook up a slave monitor, as shown in this photo from a study we ran in Hong Kong: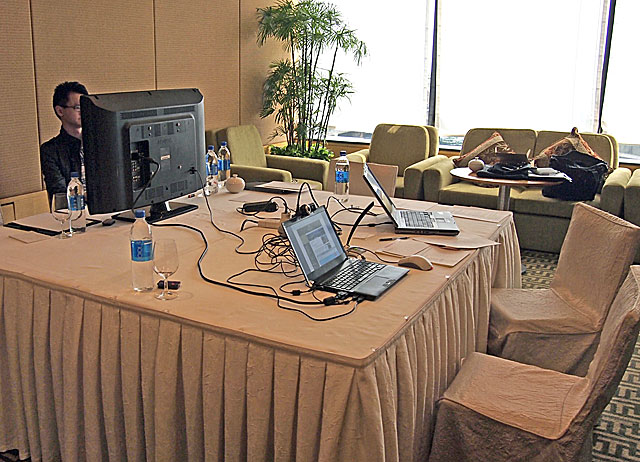 Here, we simply used a mid-sized HD TV, which is available at most hotels (and thus you don't have to ship it around). Because the projected image of the user's screen is fairly large, a handful of observers can crowd around the TV.
As the photo shows, from the user's viewpoint, the observers are pretty much screened out by the bulk of the television. Again, you want observers to be out of sight and out of mind as far as the user is concerned.
If you have many observers, you can run the video cable to an adjourning conference room and use a projector to generate as large an image of the user's screen as you want. It's a bit trickier to pipe in sound, but you can do that as well—sometimes through the low-cost trick of using speakerphones and simply muting the one in the observation room.
No Excuses
No equipment? That's no excuse for not testing your design.
You can test a paper prototype or you can use a laptop (which I'm sure you have anyway). Although we like to show video clips from our research in our training seminars, for in-house studies, you don't even need the webcam or recording software.
No usability lab? Not an excuse either.
As I've shown here, you can test almost anywhere, in any country (including your own!), with a small amount of equipment that you can either scavenge on site or bring in a carry-on bag. The one thing you do need, however, is real users who represent the target audience.
For more info on how to set up a usability study, run it, and analyze the findings, see our full-day Usability Testing training course.
Share this article: Twitter | LinkedIn | Google+ | Email
---