Prioritizing Web Usability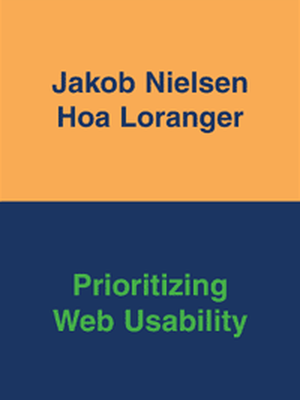 After more than a decade of Web usability research, we literally have thousands of guidelines for making better websites. But what are the most important ones that all designers need to know? That's what Prioritizing Web Usability is about. A second goal of the book is to update the early Web usability guidelines we published in the 1990s. All the guidelines found since 2000 continue to hold, but what about findings from the studies we conducted 1994 to 1999? The book compares these old studies with more recent ones and explains which of the old guidelines should still be followed. 406 pages, heavily illustrated, in full color. (New Riders Press, Berkeley CA.)
ISBN-10: 0-321-35031-6
ISBN-13: 978-0-321-35031-2
Press
Washington Post: "Drills down more deeply into the phenomenon of hyperactive Web browsing than I've seen before."
Felgall.com: "A must have book for anyone serious about web site usability."
Ecommerce-blog.org: "Overall, this could be the only resource a savvy website owner needs to make their website very usable."
456 Berea Street: "Excellent book and a must-have for anybody involved in creating a website."
Monday by Noon: "Jakob Nielsen and Hoa Loranger have really put together a resource that belongs on any designer's or developer's bookshelf."
Shapeshed: "The book is brilliant as it backs up advice and assumptions with empirical data. [...] the next time a client asks why it is bad to have popup windows everywhere you can point to a study."
Kicking Over My Traces: "If your business has a website, your web designer needs to read Nielsen's book."
D'Lynne Waldron: "The advice in this book is worth millions of dollars to most corporations."
Church Communications Pro: "An expensive book [...] but absolutely worth it!"
Aneclecticmind.com: "Do you design Web sites? Get and read this book!"
FredCavazza.net: "Un bon livre qui sait intelligemment faire la part des choses entre la simplicité d'usage et les impératifs d'image de marque."
JesusEncinar.com: "Un libro estupendo de un experto en la material."
Table of Contents
Preface
What is Usability?
Where to Find Detailed User Research
Usability Then and Now
Who Should Read This Book?
Introduction: Nothing To Hide

Where We Got Our Data

How We Did the Book Study
Sites Tested
What if a Site Has Changed?
User Testing in Three Days

Tell Me Again: Why Do I Need to Do User Testing?

The Web User Experience

How Well Do People Use the Web?

The Measure of Success
Web-Wide Success Rates
Success By Experience Level

User Satisfaction with Web Sites

Three Guidelines for Supporting Deep-Link Users

How People Use Sites

Four Goals in Thirty Seconds
The Homepage: So Much To Say, So Little Time
Interior Page Behavior
Optimizing Interior Page Links
The Rise of "Answer Engines"

Search Dominance

Four Ways to Grab Value From Search Engine Visitors
Organic vs. Sponsored Links
How People Use the Search Engine Results Page
Number One Guideline for Search Engine Optimization
Using Keyword Pricing to Estimate Usability Improvements
How To Determine the Optimal Bid for a Search Keyword Ad
How Much Is Improved Usability Worth?
Three Reasons To Improve Your Site
Design for Short Scrolling

Scrolling

Defining Standards and Conventions

Complying With Design Conventions and Usability Guidelines

Seven Reasons for Standard Design Elements

Information Foraging

Information Scent: Predicting a Path's Success
Diet Selection: What Sites to Visit
Three Ways to Enhance Information Scent
Patch Abandonment: When to Hunt Elsewhere
New Design Strategies for Attracting Information Foragers
More information
Informavore Navigation Behavior

Revisiting Early Web Usability Findings

Problems That Haven't Changed

Links That Don't Change Color When Visited
Why Designers Don't Believe Us
Breaking the Back Button
Fitts' Law of Click Times
Opening New Browser Windows
The Curse of Maximization
How Can You Use Windows if You Don't Understand Windows?
Pop-Up Windows
Most Hated Advertising Techniques
Design Elements That Look Like Advertisements
Avoid Influencing Users During Testing
Violating Web-Wide Conventions
Vaporous Content and Empty Hype
Dense Content and Unscannable Text

Technological Change: Its Impact on Usability

1986 Air Force Guidelines Stand the Test of Time
Don Norman's Three Levels of Emotional Design
Slow Download Time
Frames
Flash: The Good, the Bad, and the Usable
Low-Relevancy Search Listings
Multimedia and Long Videos
Teenagers: Masters of Technology?
Frozen Layouts
Sad Mac
Cross-Platform Incompatibility
Mobile Devices: A New Argument for Cross-Platform Design?

Adaptation: How Users Have Influenced Usability

Uncertain Clickability
Links That Aren't Blue
Scrolling
Registration
Complex URLs
Pull-Down and Cascading Menus

Restraint: How Designers Have Alleviated Usability Problems

Plug-Ins and Bleeding-Edge Technology
3D User Interface
Bloated Design
Splash Pages
Moving Graphics and Scrolling Text
Custom GUI Widgets
"About Us" Features Don't Say Enough
Not Disclosing Who's Behind Information
Made-Up Words
Outdated Content
Inconsistency Within a Web Site
Premature Requests for Personal Information
Multiple Sites
Orphan Pages

Assessing the Fate of the Early Findings

Prioritizing Your Usability Problems

How Severe Is the Problem?
Scoring Severity
What Makes Problems Severe

Hospital Usability: In Critical Condition

The Scale of Misery

The First Law of E-Commerce

Why Users Fail

Five Biggest Causes of User Failure

Is It Enough to Focus on the Worst Problems?

Search

How to Know if You Need Search
The State of Search
Three Simple Steps to Better Search
The Three Things Users Expect from Search
When is a Search Not Search?
How Search Should Work
Search Interface
Don't Try to Be a Search Engine
Search Box Go Wide
Query Length and Search Box Width
Advanced Search
Target Practice
Search Engine Results Pages
SERP Dating Conventions
Help Bad Spellers
Best Bets
Four Ways to Build Best Bets
Maintaining Best Bets
Sorting the SERP
No Results Found
One Result Found
Search Engine Optimization
Black-Hat SEO Tricks
Naming Names
The Beauty of Using Text-Only Ads
Tracking the Value of Search Ads
Linguistic SEO
The Top Linguistic SEO Guideline
Keyword Overuse Backfires
Think Phrases, Not Keywords
Architectural SEO
Reputation SEO
How Search Engines Determine a Site's Reputation

Navigation and Information Architecture

Am I There Yet?
Match the Site Structure to User Expectations
Navigation: Be Consistent
Navigation: Beware the Coolness Factor
Reduce Clutter and Avoid Redundancy
Links and Label Names: Be Specific
Vertical Dropdown Menus: Short Is Sweet
Multilevel Menus: Less is More
Can I Click on It?
Affordances
Direct Access From the Homepage

Typography: Readability & Legibility

The Downside of Dummy Type
Four Top Guidelines for Type
Body Text: The Ten-Point Rule
Age Is Not the Issue
Avoid Anti-Aliasing
When the Same Size Appears Smaller
Planning for Differences in Hardware
Accessibility Affects All of Us
The Rule of Relative Size
Relative Specifications
Designing for Vision-Impaired Users
Choosing Fonts
When Will Screens Read as Well as Print?
Mixing Fonts and Colors
The Case Against Caps
Text and Background Contrast
Two Ways to Make Colors Pop
Common Color Blindness
Text Images
Moving Text

Writing for the Web

How Poor Writing Makes Web Sites Fail
Hire a Web Writer
Understanding How Web Users Read
Why Users Scan
Know Your Audience
Writing for Your Reader
Three Guidelines for Better Web Writing
Use Simple Language
Meeting Low Literacy Needs
Tone Down Marketing Hype
When and Where to Toot Your Horn
Writing Samples: Before and After
The Two-Sentence Test
Keeping It Short and Sweet
Summarize Key Points and Pare Down
Writing Descriptive Labels
Making Usability Skyrocket
Formatting Text for Readability
Highlight Keywords
Use Concise and Descriptive Titles and Headings
Three Guidelines for Heading Hierarchy
Use Bulleted and Numbered Lists
Parallel Phrasing Is Important
More Information
Keep Paragraphs Short

Providing Good Product Information

Where To Display Prices
Show Me the Money
No Excuses
Approximate Prices Are Better Than None
Disclose Extra Fees
Win Customer Confidence
Describe the Product
Test Driving an Auto Site
Provide Pictures and Product Illustrations
Five Big Illustration Errors
Layer Product Pages
Display Bona Fides
Support Comparison Shopping
Refine and Sort
Support Sales with Quality Content
Four Reasons for Informational Articles
They Don't Have Products, Do They?

Presenting Page Elements

When the "Three-Click Rule" Wreaks Havoc
Should You Design for Scrolling?
Four Rules of Scrolling
Beware of Magic Numbers
Guiding Users, Step by Step
Keep Like with Like
Sloppy Formatting of Forms
Look at Me!
Satisfy Your Users' Expectations
Using White Space

Balancing Technology with People's Needs

Flashback to 2000
Use Multimedia When It Benefits Your Audience
Providing Alternative Accessibility
Overcoming Barriers to Multimedia
Accommodate Low-Tech Users
Sites for Kids: Keep It Real
Design for Your Audience's Connection Speed
Provide a Simple and Accurate Loading-Status Indicator
Watch Your Language
Underestimate Your Users' Technical Knowledge
Detect Users' Bandwidth
Stick to Familiar Interface Conventions
Pop-Ups Usually Strike Out
Scroll Bars Should Be Standard
Rich vs. Poor Media
Avoid Multimedia Excesses
How Do You Turn This Thing Off?
Turn Down the Volume
When to Take a Commercial Break
Make Videos for the Web
The Practice of Simplicity
Improving a Site: Sooner or Later?
Three Tips: Simplify. Simplify. Simplify.
Toward a More Elegant Design

Final Thoughts: Design That Works
Index
Translations
Chinese (simplified) at Dangjang.com

网站优化:通过提高Web可用性构建用户满意的网站
ISBN 9787121039683

Chinese (traditional) at Delight Press in Taiwan

設計好網站的黃金準則
ISBN 978-986-6761-50-8

Site Web: priorité à la simplicité
ISBN 978-2744021527 (first edition)
ISBN 978-2744023156 (second edition)

Web Usability (Deutsch)
ISBN 3-8273-2448-3 (first edition)
ISBN 978-3827327635 (second edition)
Table of Contents

Web Usability 2.0: L'usabilità che conta
ISBN 88-503-2539-8

新ウェブ・ユーザビリティ
ISBN 4-8443-5892-8

웹 유저빌러티 우선순위
ISBN 89-90758-58-0

Optymalizacja funkcjonalności serwisów internetowych
ISBN 83-246-0845-1

Usabilidade na Web: Projetando Websites com Qualidade (new Portuguese title)
ISBN: 85-352-2190-5
ISBN-13: 978-85-352-2190-9
(The original Portuguese title for this book was Projetando Websites com Usabilidade.)

Russian at Dialektika-Williams

Web-дизайн: удобство использования Web-сайтов
ISBN 978-5-8459-1222-0

Usabilidad: Prioridad en el diseño Web
ISBN 84-415-2092-9
Errata
Errors in the first printing:
Page 69, sidebar box, last paragraph:
Change "accidentally click outside the parent browser window" to "accidentally click the parent browser window"
Page 98, figure caption:
"British or American flag" should read "British or French flag"
Page 99, top illustration:
The bottom line of this illustration was cropped off during page layout. There was supposed to be one more link visible.
Page 163, box titled "Naming Names", 2nd paragraph:
The correct name of the organization is First Division Association.
Page 388, bottom-most figure caption:
Change "This is the first of two" to "This is the second of two"
We thank Jonathan Cooper, Tim Holyoake, Tom Styles, and Zhang Liang for spotting errors in the book and helping us make it better in subsequent printings.