NN/g News
2006 Intranet Design Awards
January 2, 2006
Allianz Australia Insurance Ltd (Australia)
Ensuring more than 3,000 employees dispersed throughout Australia and New Zealand receive a consistent corporate message could be difficult. Designers at Allianz Australia Insurance, however, tackled the problem by making their intranet the vehicle of choice for corporate communications and strategy, employing clear design and writing, and adopting a trick or two from Web advertising practices.
The Allianz Australia team, Back row (left to right): Dan Tully, Marcin Szczepanski, Steve Whistler Front row: Alinta Thornton, Julie Kerrigan
ALTANA Pharma AG (Germany)
Like many pharmaceutical companies, ALTANA Pharma's future depends on research and development, not to mention sharing knowledge. So ALTANA Pharma articulated and delivered on a clear intranet design goal: to provide an overview of the organization so transparent that using it is intuitive not only for employees, but also for new hires.
The ALTANA team, Top row: Nicola Winterstein, Matthias Rohrbach, Bernd Schopp Bottom row: Harry Preis, Ernst Ammann, Thomas Link, Michael Pertek
Bank of Ireland (Ireland)
While the Bank of Ireland's intranet might swap the serious navy pinstripes for bursts of orange and blue, don't be fooled by the light-hearted aesthetics: this bank's intranet means business. A variety of business and personal features are packaged clearly and gracefully, continually drawing employees back to the intranet as part of their daily work routine.
The insite team: Breda Shalloo, insite Content Publishing; Mick O'Farrell, Editor insite; Mary Staunton, Group Internal Communications Manager; Mairead Anderson, insite Relationship Manager; and Breffni Wall, insite Content & Publishing Specialist.
Capital One (United States)
Who needs "features," "wizards," or other obtuse catch phrases? Not Capital One, whose intranet is a model of design ingenuity and aesthetic mastery. Designers concentrated on users' tasks, giving them exactly what they need, when they need it, all clearly labeled.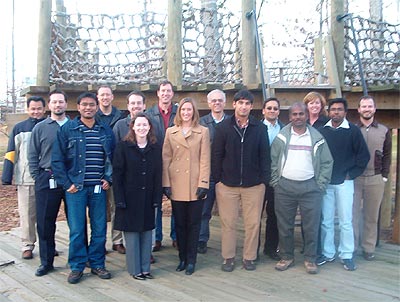 The Capital One team: Van Ngo, James Taylor, Karthik Chikkan, Macon Pegram, Brian Gruber, Elizabeth Woodward, Matt Koch, Diane Blantz, Mike Argie, David Sequeira, Jahan Kadhar, Jey Jeyasankar, Robin Croghan, Deepu Mathew, Sean Winter Not Pictured: Amanda Goodrich, Katherine Murphy, Giri Vissa, Gayatri Manda
IBM Corporation (United States)
How does the world's largest information technology company provide a single, useful intranet for its 329,000 employees? Designers took an aggressive yet realistic approach, creating and enforcing meticulous intranet design standards to maintain a consistent design, and using personalization to ensure the right information reaches the right people.
The IBM User Experience team: Maria Arbusto, director of user experience; Jason Blackwell, human factors and usability engineer; Nancy Bliss, program manager for user experience/content integration; LaMana Donadelle, information architect; Abigail Lewis-Bowen, intranet standards for Web design & development; Ed McFadden, user-centered design; Sarah Goldman, taxonomy integration; Lauren Murphy, human factors and usability engineer; Chris Pietras, human factors and usability engineer; Wendi Pohs, search and taxonomy integration; Matt Starr, human factors and usability engineer; Simon Ward, intranet standards; Karen Wilson, human factors and usability engineer; Mark Wise, human factors and usability engineer Euro RSCG 4D: Frederic Bonn, creative director; Matt Stark, account director; Victor Sie, senior art director; Daniel Cardenas, senior UI programmer; Gita Pabla, art director; Imari Oliver, project manager
Staples Inc. (United States)
The designers of the Staples portal researched the needs of their employees, then delivered appropriate tools, while consolidating on a single portal. A clear design, which mirrors the corporate branding and color scheme, ties it all together, including an array of useful features, from virtual message boards for store managers to a restricted version of the intranet for stores' customer- facing kiosks.
The Staples Portal Team: Joanne Donahue, Curran Leahy, Ben Cornish, George Levesque, Hao Pan, Vanita Chawla, Roger Mann. Not pictured: Lindsay Germanos, Margaret Woisard, Ray Stevens, Nick Devito, Mark Clinton, Rebecca Goodson, Robin Shawver, Joan Lucas, Elyssa Ramirez.
Vodafone Group plc (United Kingdom)
For Vodafone's intranet, designers not only applied their own skills, but also channeled the organization's collective mobile-device proficiency. The resulting intranet boosts collaboration and productivity, and reinforces the corporate culture and goals—both on desktops and mobile devices—for about 70,000 employees worldwide.
The Vodafone team: Tom Büstorf, Virginia Hocks, Astrid Dähnhardt, Karsten Brands Florian Riedl, Thomas Färbinger, Endika Miragaya, Peter Nikles, Carolin Lücker, Dr. Stefan Böcking, Stefan Delater, Christian Schatzinger, Markus Hodapp, Mark Cowlin, Jost Krebs, Juan Figuerola Ferretti, Marlies Prack, Dr. Armin Hessler, and Michael Maduch
Merrill Lynch (United States)
The designers of Merrill Lynch's intranet employed an iterative design methodology, including card-sorting exercises. Given this groundwork—the significant time the design team spent researching employees' needs and designing ways to meet them—this intranet's success is no surprise. Even so, designers also deftly balanced employees' needs with a range of business needs.
METRO Group (Germany)
METRO Group's intranet delivers a seamless user experience—despite multiple backend applications—plus a design and structure that serves twenty different METRO Group companies in thirty countries. The intranet also showcases how a little design freedom can deliver big innovations. Witness a successful interactive game for training employees about various aspects of the business.
O2 (UK) Limited (United Kingdom)
O2's intranet truly ties the company together, keeping employees informed, trained and motivated, via different intranet sub-sites designed for specific user groups, all easily accessible from the intranet homepage. That's despite having thirty-five offices, five call centers, over 250 retail shops, and 10,000 employees.