NN/g News
2009 Intranet Design Awards
January 1, 2009
Altran
The Altran designers understood the importance of creating a task-based, scalable information architecture (IA). In designing their intranet, team members made some disciplined decisions, trusting their task analysis and user research to direct them.
The Direct v.2 team (from the left to right): Benjamin Rouard, Olivier Siganos, Jean-François Le Lezec, and Hervé Audouin.
Advanced Micro Devices (AMD)
The AMD intranet is testament to the fact that anything can be done in a short time if you have the right team in place and the team is very driven. Although time was not on their side, these determined designers were still able to achieve huge gains in their redesign.
The AMD intranet design team: From left to right (front): Andrea Werzner, Nils Ellis, Richard Calderon; (back) Dana Baldwin, Robert Nellis; missing from photo: Renee Irion.
BASF SE
Moving with the times, the designers of BASF.net made very good use of Web 2.0 features. Designers used these capabilities in very thoughtful ways that actually improved the user experience. BASF.net not only supports efficiency for each user's daily work, it also ensures that people can experience "BASF – The Chemical Company" online as a truly global brand.
The BASF.net project team (from left to right, seated): Beate Zissel, Julia Buchner, Bernd Schabacker; (from left to right, standing): Marian Möhren, Bernward Schuka, Vladimir Mello, Gerald Ebisch, Oliver Schröpfer; missing: Claudia Lindner.
COWI Group A/S
The COWIportal designers greatly improved the site's personalization features, making it easy for consultants to find their own information. Collaboration and knowledge sharing are also prominently featured, along with the unsung heroes of fabulous graphics and simple, clean text.
Deloitte Touche Tohmatsu (DTT)
The DTT intranet is a vehicle for knowledge sharing and seamless integration. Designers from across the organization thoughtfully balanced the autonomy of groups and locations across DTT, while still answering the need for information sharing and a seamless interface across the entire intranet.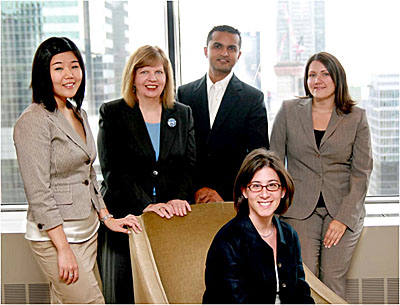 The DTT Communications intranet team. Front center: Rachel Flanagan; Back from left to right: Jessica Yi, Karen Frankola, Divyesh Jevtani, Jill Brower.
Environmental Resources Management (ERM)
Minerva, the ERM intranet, supports 3,500 staff located all around the world in more than 140 offices in more than 40 countries. Designers implemented several inventive collaboration features to enhance collaboration among consultants, ultimately enabling them to give the best service to their clients.
The ERM intranet team: (top, left to right) Bonnie Cheuk, Pete Regan, Tom Whitehurst, Roddy Fiddes, Karen Perkinton; (bottom, left to right): Pippa Smith, Chris Long, Andrew Arvidson, Samantha Bouzan, Christina Apostolou.
HSBC Bank Brazil
The HSBC Brazil intranet is a showpiece for communication, which is key for an organization with 26,000 employees located in 565 cities across the country. The intranet's communication vehicles help employees feel heard, and remind them that they're part of a large but still cozy community at both HSBC Brazil and HSBC as a whole.
The HSBC intranet team (top left to right): Tiago Saturnino, Edilson Fontenele, Luiz Zimmermann, Bianca Zanardi, Paulo Floriano, Thiago Stefani, Clésio Ramos, Everson Reis, Luiz Prohmann; (bottom left to right): Juliana Marques, Tiane Yamaguchi, Luciano Miranda, Suzana Ribeiro, Giorgio dal Molin, Priscilla Fogiato, Fernanda Santos, Gilmar Soares, Maura Kuniyoshi, Denise Shibata, Gustavo Nadaline.
Kaupthing Bank
Kaupthing Bank's investment in work tools and communication is matched by its commitment to respect and embrace all employees on a more personal level. The intranet designers effectively reflect these priorities with interactive features and good content about people that seems neither forced nor overdone.
The Kaupthing Bank team: (Daníel Reynisson, team manager–IT; Björn Erlingur Flóki Björnsson, Web editor; Sigurjón Ó lafsson, webmaster–Global; Thór Snaer Sigurdsson, graphic designer. (Front row, left to right) Gudný Danivalsdóttir, intranet project manager and Web editor; Kristín Benný Grétarsdóttir, webmaster-Iceland; Hrefna Arnardóttir, programmer/project manager-Eskill.
L.L.Bean
The L.L.Bean designers worked through barriers together, employing creativity and ingenuity to create an intranet that readily informs and communicates with the company's employees.
The L.L.Bean team: (left to right) Linda Carew, Laurie Gonyea, Leah Fitch, John Vincent, and Melissa Coleman.
McKesson Corporation
Each McKesson employee probably thinks McKNet was created especially for him or her. And in some ways, it was. This intranet supports a truly inspiring amount of flawlessly implemented personalization features.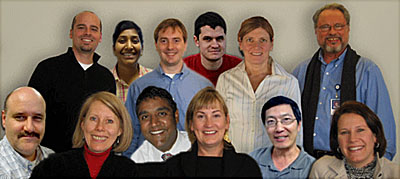 The McKesson intranet portal team: (standing, left to right) Drew Vecchione, Rajani Bobba, Jacob Covington, Brandt Wiley, Elana Keil, David Seghers; (sitting, left to right) Eric Deatrick, Tracy Thomsic, Anand Srinivasan, Vaughan Acton, Ying Lee, Stasia Lord.
The McKesson MPT sales portal team: Web Content Strategists Terrell Yelverton (left) and Jennifer Galloway (center) and Project Manager Mary Jo Borges (right).