NN/g News
2011 Intranet Design Awards
January 1, 2011
AMP Limited
Treating employees as customers, the AMP intranet team aimed to "win back" their users with a revamp of the site search and information architecture and a new focus on people.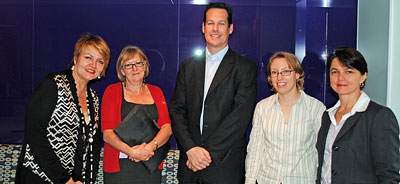 AMP Intranet team (left to right) Annalie Killian, Joanne Hawkins, Vernon Meyer, Rebecca Makila and Aneta Beocanin.
Bennett Jones LLP
The Bennett Jones intranet team built, through strong planning, user research, and smart, thoughtful design, not just a new intranet, but also a mission critical knowledge management work tool.
The Ben-Net team (top left to right) Shelagh Mikulak, Brian Bawden and Adeniyi Adebayo from Bennett Jones. Upper middle (left to right): Kathleen Moynahan, Ben Skelton and Bryanne Philibert of Habañero Consulting. Lower middle bottom (left to right): Akiva Bernstein and Matt Stark of V51 Consulting. Bottom (left to right): Gerrick Denton and Howard Russell of RBRO.
Bouygues Telecom
Working with four agencies, the four-person Bouygues Telecom intranet team used careful planning and precise documentation to tackle a long-overdue site overhaul. Hard work on 27 simultaneous redesign subprojects resulted in revitalized portal.
Bouygues Telecom intranet team (left to right) Guillaume Foltran, Nicolas Motron, Olivier Sonneville and Christophe Coupez.
Credit Suisse AG
The Credit Suisse Corporate Web Team designed their intranet as a platform, to put the employee, not the organization, at the center of the intranet. Personalization, customization, sharing and collaboration shift the focus to people, helping employees get their work done and find the information they need.
The Credit Suisse intranet core team. Back row (left to right) Gerhard Schauer, Andrea Bargetzi, Oliver Staubli, Christopher Schmidt, Stefan Büchi; Middle row (left to right) Christian Sebregondi, Peter Landolt, Andreas Zogg, Isabel Herzog; Front row (left to right): Lukas Müller, Barbara Müry Erni, Mark Stefan Hirst, Jamal Sadick; Inset (top) Linda Buschke, (bottom) Aidan Bonel.
Duke Energy
The Duke Energy intranet team focused on strong planning and incremental change to transform the site into a useful tool primed to provide information, simplify work, and encourage communication. This feat was made all the more impressive while working with SharePoint under the constraint of using no customization.
Duke Energy intranet team (left to right) Greg Corrin, Randy Wheeless, James Bowen, Chris Greufe, Derrick Balog, Shannon Polson, Clark Kearns, Martha Brown, Robbi Walls and Marc Bacon.
Additional team members not included in group photo above, (left) Mike Diekhoff and (right) Karyn Williams
Habitat for Humanity
By reorganizing site content, breaking down site barriers, and offering useful tools for sharing information, the HFHI team created an authoritative resource to support the needs of all of its 25,000 registered users, scattered all over the world.
HFHI team (top, left to right) Lisa Reitz, Drew Hancock, Allan Wellenstein (AW Systems); (bottom, left to right) Doug Green (AW Systems), Connie Steward and Jill Claflin. Not Pictured: Bob Norris.
Heineken International
Heineken's BrandPortal gives worldwide users quick access to brand assets on a colorful site offering an ever-growing array of collaborative features. Features such as Heineken on the Web, which presents a snapshot of what customers are saying about the brand on Twitter, blogs and YouTube, take the site beyond the ordinary.
The Heineken BrandPortal team (left to right) Heineken: Mark van Iterson, Michelle Bertens. SmallWorlders team members: Kevin Cody, Dan Jones, Cedric Crickx, Simon Jones, Rosie Cooper.
KT
In six months' time, the KT intranet team turned an information center into a collaborative and dynamic site allowing employees and management to connect, communicate and get their work done. Colleagues can communicate through the site's IP telephony or tools for faxing, emailing, or text messaging and share ideas through personal blogs, micro-blogging and forums.
The KT intranet team (left to right) Dong-Won Hwang, Seung-Jin Kim, Soon-Ku Woo, Seung-Heon Lee, Geun-Young Han, Jong-Ho Noh and Chan-Ho Jung.
Mota-Engil Engenharia e Construção, S.A.
Mota-Engil's InnovCenter encourages, guides and tracks innovative ideas from inception to completion. A powerful tool for innovation, it inspires participation, informs contributors, enables decision-makers and results in successful innovation projects across the company.
Mota-Engil team members (left to right) Rui Campos, Ines Barbosa, Antonio Meireles, Maria João Veiga, Rui Rocha and João Ribeiro Pinto.
WeListen team members (left to right) Bruno Lopes, Ricardo Lapão, Carlos Mendes, and Leonardo Varella-Cid
Verizon Communications
The addition of My NetWork, a suite of collaboration tools, helped transform the Verizon intranet from an information site to a communication and collaboration site. Additional enhancements to news and the homepage make for an engaging site.