NN/g News
2012 Intranet Design Award Winners
January 1, 2012
CenturyLink Business
Members of the intranet team at CenturyLink Business were not put off by a design predicament. Instead, they clearly defined the organization's issues and goals, focusing on the sales force, which put them on their way to designing the ultimate sales-support intranet.
CenturyLink Business intranet team (left to right): Bruce Black, Brad Umbaugh, Jeff Hansen, Brenda Van Der Steen, Emily Puffett, Timberlyn Wilson, Rhia Bucklin, Rick Wangen, Shelley Washburn, and Michael Salamon. Not pictured: Bob Christopher, Beth Cossette, Jeff Lewis, Erika Oliver, Brad Umbaugh, and Jill Petersen.
Everything Everywhere Limited
Creating an intranet to introduce a new brand for a joint venture between Orange and T-Mobile in the UK, the Everything Everywhere team focused on a clean design and the content that mattered most in a time of transition. Clear content guidelines keep information on the site compelling, concise, and relevant to employees.
The Everything Everywhere intranet team (left to right): Ian Hughes, Simon Chesterman, and Mark Brewster.
Genentech
The Genentech team created a simple and engaging intranet that clearly reflects the corporate culture, while enabling and emphasizing personal connections and employee interactions. Tagging content, commenting, communicating with executives, and crowdsourcing encourage employees to create conversations online.
The Genentech intranet team (left to right): Christian Santiago, Sharif Ezzat, and James Musick.
LivePerson, Inc.
Organization growth can bring with it great benefits and new challenges. At LivePerson, Inc., growth byproducts included communication channels breaking down as new offices built up, making relationships less personal. Designers leveraged a strong culture and well-defined corporate values—as well as exceptional support from upper management—to create an unparalleled intranet community.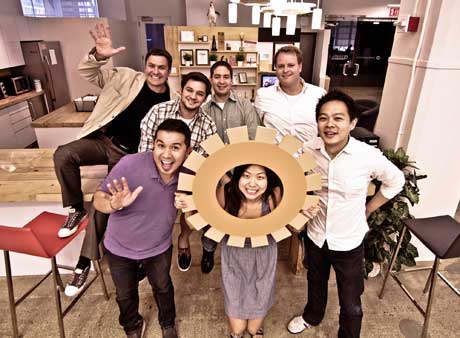 The LivePerson intranet team (left to right): Augusto Garcia, Myke Mansberger, Rich Adler, Giancarlo Trentini, Paul McCarthy, Erin Kang, and Mike Cheng. Absent from photo: Clare Warburton and Lynda Mota.
Logica
The Logica intranet team used research, guiding principles, and planning to move the company to one global site, enabling the workforce to communicate in new and powerful ways. Creative content drew users to the new site, and blogging lets them communicate in informal ways.
The core Logica intranet team (left to right): Chris Green, Emma Roos, Dave Dunlop, Pete Blunsdon, Mark Kernot, Jenny Perrett, Sarah Martin, Mike McIntyre, and Ayesha Mian.
The Logica India development team members (left to right): Varun Galur, ManojKumar Raju, Suhas Vengilat, Pradeep Raman, Bhupendra Rawat, Praveen Kumar Thalluri, Nilanjan Dutta, and Manikandan Balakrishnan.
Logica library and intranet content management team (left to right): Manoj Balan, Vivek Thakur, Vimpy Choudhary, Lizzie Lewis, Pete Blunsdon, Krithika Nagarajan, Harini Subash, and Khadar Valli.
MAN Diesel & Turbo SE
MAN Diesel & Turbo SE designers navigated the towering tightrope between leading users and giving them the flexibility they desire. The designers established the right balance between offering targeted content and tools and giving users the freedom to deviate from such suggestions as needed. This "Atlas" (the intranet's name) is triumphantly wielding a balancing bar along with the world.
The Atlas Team (top row, left to right): Joseph Purse, Peter Stern, Kristina Helms, Hanne Maretti, and Andrzej Huryn; (2nd row, left to right): Niels Peträus Garde, Stephan Spangenberg, Ludwig Fischer, Reinold Növermann, and Thomas Alders; (3rd row, left to right): Stinne Bech Johansen, Anders Kryger, Christiane Kröhling, Connie Spangenberg, and Michael Hirschvogel: (bottom row, left to right): Alexander Baumgärtner and Frankie Paul Cook.
NCR Corporation
NCR Corporation's intranet designers used a significant reorganization as an opportunity to help make information more transparent to all. Taking cues from organizational restructuring, they defined one IA and search, eliminating many issues from both the individual and company perspectives. In this winning design, people can find their information while hitting fewer pages and sites, so they can spend less time pursuing content and more time consuming it.
The NCR intranet team (left to right): Sushil Bharwani, Naveen Verma, Abhishek Anand, Prashant Yadav, Prateek Narang, Anirudha Das, Jai Prakash Mishra, Rudresh Shrotriya, Abdul Momin Khan, Mohit Sharma, Kenny Monteith, Myria Williams, Vic Shoup, Omar Gosh, Joshua Smith, Colleen Swanger, Stuart Gray, and Angelo Kalevela.
The Scotts Miracle-Gro Company
Focused on content to educate associates about the customers they serve, the Scotts Miracle-Gro intranet provides consumer-focused content in a timely and engaging way. Letting employees hear actual Consumer Service calls and read customer vignettes keeps them focused on the consumer.
The Scotts intranet team (left to right): Lisa Smith, Balaji Srinivasaraghavan, Dhayananth Chandrasekaran, Tyler Kerr, Krishna Thallavarajalla, Kristin Dean, Doug Hoy, and Elizabeth Kanz.
Skanska
Moving from 30 local intranets to one global site, the OneSkanska team created a single site that meets the needs of all business units and locations. Information is available to everyone, adding to a sense of transparency within the organization.
The Skanska intranet team (left to right, top row): Helena Dahlberg, Kimi Matsubara, Olof Gunnarsson, and Charlotta Herte; (second row): Dan Lindeberg, Frans Lundgren, Magnus Österhult, and Minna Solvestad; (bottom row): Camilla Flinkenbro and Martin Skybrand.
Staples, Inc.
Unlike some large companies, Staples encourages both professional and personal information sharing, demonstrating that it values people as both workers and human beings. The intranet is fittingly named The Hub, as it's the nucleus for online sharing at Staples. Through The Hub, people who don't work on the same team or in the same office—and who would likely never become acquainted otherwise—can become close colleagues. These relationships, forged in person or online, but certainly reinforced on the intranet, can increase employee satisfaction.
The Staples intranet team (back row, left to right): Paul Isgro, Kunjan Jhaveri, Rick Sy, Tom Tobin, Bob Solomon, Chris Pickett, Lindsay Germanos, Jon Polaski, Joanne Donahue, Diane Shelley, Roger Mann, and Kumar Teppa; (front row, left to right): Melissa Shore, Johanna Sheyner, Swati Bagchi, Tatum McIsaac, Nirmala Kulkarni, Lajaun Case, and Pam Cayem. TandemSeven (top): Karin Kawamoto; (bottom): Dan Liliedahl and Steve Wyman. (Not pictured: Aubrey Bowser (TandemSeven) and Arnaud Jammaers (Staples).)
2012 Intranet Design Annual details and purchase information