Company Name First in Microcontent? Sometimes!
Topics:
Summary: Typically, you should deemphasize your company's name in links, but a new guideline recommends frontloading the name for search engine links under certain conditions.
Based on our current round of user testing, which is aimed at updating our usability seminars, we've modified one of the oldest Web usability guidelines.
Since we first published studies of how users read on websites 11 years ago, the guidelines for writing microcontent, such as links, headlines, and page titles, have been very clear:
To illustrate the second guideline's importance, let's take a look at the news area for Highway Holdings, a company with 1,500 employees: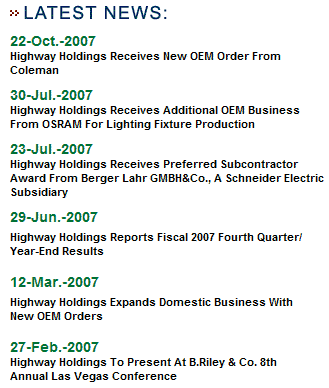 Every news item starts with the words "Highway Holdings," which raises two key problems:
The news is about this company, on its own homepage, making the repetitive use of the company name largely uninformative and a waste of extraordinarily precious real estate (each list item's first two words).
Starting all links with the same words makes the choices harder to differentiate, and thus harder to use.
(The site's use of international date format does follow guideline #17 for press releases and PR on a corporate website. However, it then violates guideline #21 by not having posted any press releases for four months.)
As illustrated by this example, the basic guidelines for writing for the Web continue to hold, including the guideline that it's bad to start links with your own company name.
When to Frontload the Company Name
There's now an exception to the general rule:
Start search engine links with your company name when both of the following conditions hold:

The link appears as a hit for queries that typically produce a SERP (search engine results page) that's full of junk links.
You have a widely recognized and well-respected company name.
Currently, we're running a study to update our course on the Top Web UX Design Guidelines. Many of the study's tasks are Web-wide — that is, we don't tell participants what websites they should visit to accomplish their tasks. For Web-wide tasks, people often start by querying a search engine, using the resulting SERP to pick the sites they'll visit.
Unfortunately, many of these searches generate listings filled with meaningless headlines and jumbled summaries. These junk results visibly frustrate users and make it hard for them to select a site to visit. Ultimately, many just pick the link from any reputable company they can find, even if it appears several positions down the list. (This is in contrast to normal behavior, in which users mainly pick the top search hit.)
For example, Amazon.com's search entry links start with the term "Amazon.com" for every product it sells. Our participants often go straight for those links rather than explore bizzaro choices higher up on the SERP.
SEO vs. Usability
This finding — that when a SERP link starts with a respected brand name, it holds more appeal for users than weirdo links — exemplifies the interaction between SEO (search engine optimization) and usability.
Narrowly construed, SEO focuses on one problem: getting your site listed as high as possible in SERPs for important queries.
This is a noble cause, and should certainly be pursued by any company that wants to succeed on the Web. (For example, by writing page content using the users' vocabulary.)
But plain SEO is not enough. Beyond a top listing, you need two things:
Users must click the link and actually visit your site. (CTR = clickthrough rate.)
Once they arrive, your site must convert users from visitors into customers. (Conversion rate, which is one of the main usability metrics.)
Clickthrough and conversion rates are driven by usability concerns: Writing links that make sense, and designing landing pages (and subsequent content) that meet users' needs. The new link guideline, revealed in this article, is just one more twist on the established usability guidelines for writing good links.
SERP Links vs. On-Site Links and Headlines
The new guideline is: For queries that mainly generate junk SERPS, put your name first in search engine links. To implement the guideline, use the leading search engine to run searches for your main business-driving keywords (assuming that you appear on the first page for these queries) and analyze the SERP's top-5 links:
Are they mainly junk? If so, attract clicks by putting your company name in the beginning of your links.
Are the top links meaningful? Do they promise useful stuff if followed? If so, write your own links to be more solutions-oriented and stick your company name last.
(Of course, if your company's name is unknown, it shouldn't appear first in any case.)
Note that this new guideline applies only to the links that appear in external search engines, such as the GYM (Google, Yahoo, Microsoft).
Within your own site, you should continue to follow traditional writing guidelines and deemphasize your company name in these situations:
Links within the SERPs generated by your site's internal search engine
Navigation links, cross-reference links, product listings on category pages, and any other links from one page of your site to other pages on the site
The headline users see on the page itself when they arrive
External search engines pick up their link text from page titles, and thus the new guideline refers to the words within the <title> tag in page heads. There's no reason for this text to be identical to either your own search engine's links or the headline displayed within the page body. A decent CMS (content management system) will let you use a different line of meta-content for internal links than for external page titles.
Share this article: Twitter | LinkedIn | Google+ | Email
---