10 Best Intranets of 2016
Topics:
Summary: The winners of our 15th Intranet Design Annual impress us with their design prowess, content support, UX research, responsive design, modern visuals, and SharePoint pushed to its limits.
Organizations
American Cancer Society (United States), a global nonprofit voluntary health organization fighting against cancer
Cadwalader, Wickersham & Taft LLP (United States), a financial services law firm
DORMA (Germany), since September 2015 part of the newly formed dorma+kaba Group, whose 16000 employees produce and market door technology systems and allied products around the globe
Enbridge Inc. (Canada), a company that transports, generates, and distributes energy across North America
Intermountain Healthcare (United States), a not-for-profit health system with 22 hospitals and 185 clinics serving Utah and southeastern Idaho
NAV CANADA (Canada), Canada's Air Navigation Service Provider (ANSP) that manages 12 million aircraft movements per year for 40,000 customers across 18 million square kilometers, making it the world's second-largest ANSP by traffic volume
Repsol S.A. (Spain), a private energy company providing service in more than 40 countries
Salini Impregilo SpA (Italy), a global construction company specializing in complex infrastructure projects and operating in 50 countries
The Co-operators Group Limited (Canada), a co-operative insurance and financial services organization
The Swedish Parliament (Sweden), Sweden's primary representative forum, elected by the people in general elections
A Two-Time Winner
This is the second win for Enbridge, which was recognized previously in the 2010 Intranet Design Annual. This repeat win demonstrates the company's ongoing commitment to continual intranet improvements.
North American Command
6 of the 10 winners are from North America, with 3 from the US and 3 from Canada. (Well done, and considering the relative size of these 2 countries, Canadians make a very impressive showing. Canada has the highest concentration of UX Certified professionals measured on a per-capita basis.) Elsewhere, this year marks only the second time that an Italian company has graced our list.
Winning Industries: Utility and Construction
In the early Design Annual years, the technology and finance industries had the most prominent showing. In more recent years, the utility industry has dominated, and it is now the most winning industry. This year, we have two winning utilities, as well as two winners from the construction industry.
Some of the decline in financial companies is no doubt a lingering effect of the financial crisis that caused these companies to reduce their investment in internal IT quality. Hopefully they'll come back, but it does take more than a couple of years to recover from a neglected intranet.
The shift from tech companies to utilities and good, solid construction firms is more interesting and may indicate a structural change, as opposed to merely a temporary cyclical impact. In the early years, it was hard technical work to implement a good intranet design, and so tech companies naturally dominated, given the stronger programming chops of their staff. Today, you certainly still need good developers, but the main challenge is business analysis (finding out which content and features will actually move the needle in employee productivity), design, and user research. All of which can be found — these days — far from the geeky halls of Silicon Valley.
Iterative Intranet Development
In contrast to the huge intranet overhauls of the past, many teams this year took iterative approaches to redesign. Some teams classified even a small iteration as a "redesign." Although this classification is technically true, such iterations are considerably smaller releases than the intranet redesigns of the past.
Some teams also worked faster with those iterative approaches. Some used Agile or other rapid approaches to development, which can reduce the time required to create an intranet. Over the past 3 years, several of our winning intranets have moved to these nimble development approaches.
On average, this year's winning teams took 1.3 years to create their sites. This speed continues the trend of the past 3 years, in which winning sites were created much faster than in the past — in less than 1.5 years on average.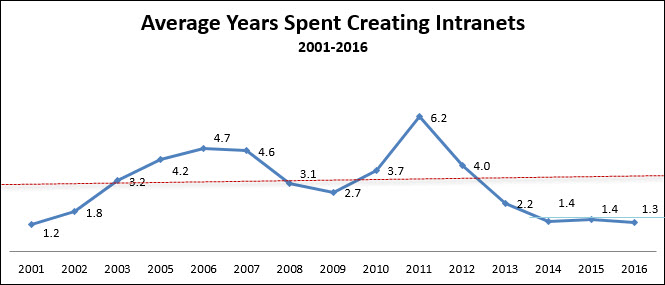 Smaller Average Organization Size
This year, the average size of the winning organizations is 12,500 employees, among the smallest averages we have had since the start of the Intranet Design Annual.
This year, 6 of the 10 winners supported fewer than 10,000 employees, from 950 at Cadwalader, Wickersham & Taft to 7,000 at both dorma+kaba and The Co-operators. Also in this group, the Salini Impregilo site supported 2,800 of the organization's 34,000 employees. Enbridge, Intermountain Healthcare, and Repsol all supported more than 10,000 employees (11,500, 35,000, and 17,000, respectively).
Bigger companies usually have more resources and definitely see a bigger monetary return on their intranet investment, simply because the improvement is multiplied by the number of users. But as we see again this year, companies with 3-digit employee numbers are fully capable of doing good design and picking the right features to boost the productivity of their staff, especially since these employees' work is usually more focused and thus can benefit more from making exactly the right features in exactly the right way.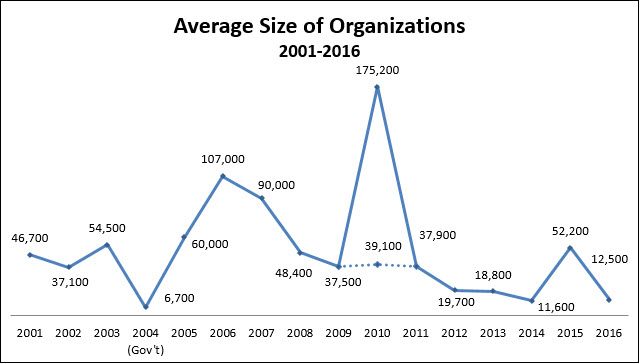 Slightly Smaller Team Size
The average intranet-team size this year is down slightly compared to the last 4 years, but this year's average is still equal to the average team size since 2001. This year, the average winning team had 14 people; the smallest team was Repsol with a team of 4 (supporting 17,000 employees), while the largest was dorma+kaba with a team of 24 (5 in the design core team and 19 additional project members) (supporting 7,500 employees).
Each team provided its own count of team size, which could include employees working full- or part-time on the site. Some teams looked to outside agencies to help with all aspects of intranet creation, and these outside consultants were not always considered as part of the core team. Both of these factors might account for the smaller numbers, as might the smaller total-organization sizes (team size often reflects organization size). In any case, these team-size numbers represent the team at the time of a redesign project, and might not reflect the team size after the main project is complete.

Low team-size numbers can be a cause for concern: they could indicate less commitment to the intranet at a management level. If intranets are to remain well-designed, usable, and effective tools, the core intranet team size must not drop to only a few employees. Governance, maintenance, and iterative improvement are essential to an intranet's success, and thus the intranet team must be staffed appropriately.
Support Ratio: Intranet Team Size Relative to Supported-Organization Size
A team size of 14 at a 100-person organization is quite different than a team of 14 at a 100,000-person organization. Because of this, we also look at the intranet support ratio, that is the ratio between the intranet-team size and the supported-organization size. The support ratio tells us how team size compares to company size. This year's ratio was relatively large: as a percentage of company size, this year's teams comprised 0.112% of company size. So, for every 1,000 employees, 1 worked on the intranet team this year.
2016's support ratio is close to that of 2014, when the average company size was 11,600 employees (versus this year's 12,500 employees).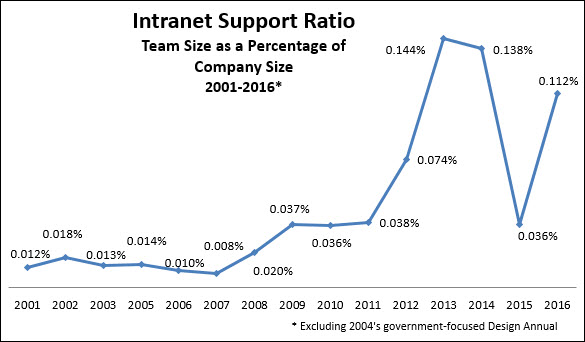 Based on this figure, a company of 200,000 would staff an intranet team with 224 people, which is unrealistic. This year's relatively high support ratio is due to the smaller companies and larger teams.
So, what is a realistic support ratio, taking company size into consideration? To answer this question, we compared team size to organization size over the past 7 years of our Intranet Design Annual and found that the best of the best intranets have this in common: a similar "intranet support ratio." This formula can help you determine the best intranet team size as it relates to the number of employees the intranet is meant to support. The intranet support ratio formula:
intranet support ratio = 9.4596 * employee_number-0.976
That is, you take the number of employees the intranet supports and raise it to the power of -0.976. Multiply the resulting number by 9.4596 to give the expected intranet support ratio.
This equation explains 88% of the variability in intranet support ratios. This effect is visible in the chart below. According to Jakob Nielsen, "It is very rare to get this strong a mathematical model of anything in the UX field. So it's a good finding."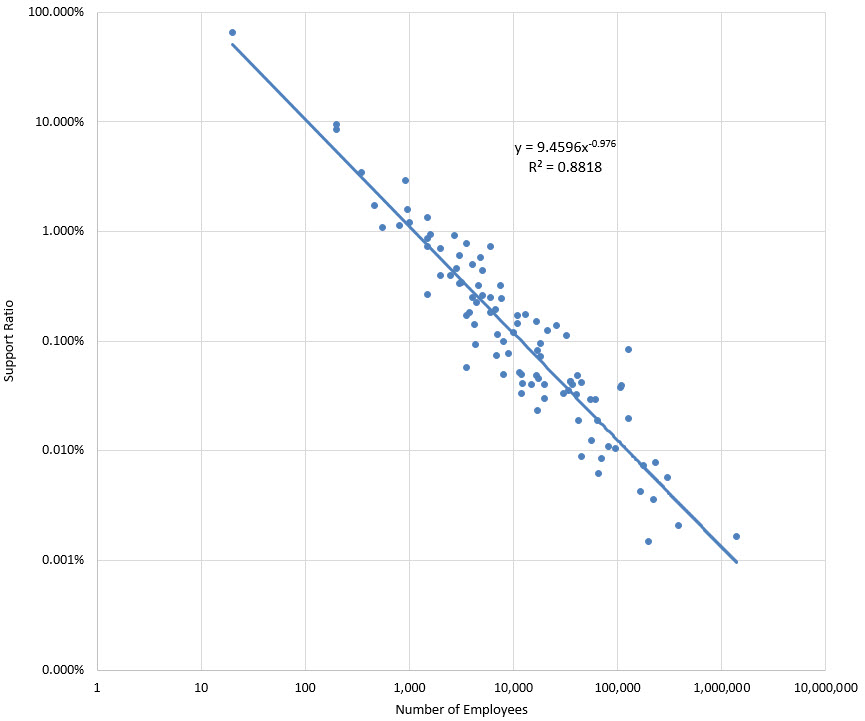 Hiring External Help
All 10 of this year's winning organizations looked to outside agencies and consultants to lend expertise to the intranet redesign project. Organizations brought in an average of 2 outside agencies to assist.
This year's winning organizations utilized agencies and consultants in all stages of the project:
Audience targeting
Benchmarking
Branding
Concept creation and review
Content migration
Development
Documentation
Functional specifications
Information architecture
Interviews
Needs analysis
Process reviews
Prototyping
Quality assurance
SharePoint implementation
Support
Taxonomy
Training
Usability testing
Video creation
Visual design
Wireframing
The extensive external help may be another reason for this year's lower team-size numbers.
Working with consultants can inspire, contribute varied expertise and perspectives, and give the team a needed jolt of excitement. The costs of hiring a consultant may be lower than hiring a full-time employee. External help also gives teams specific expertise when they need it, without requiring the organization to commit to keeping a person on staff beyond that point.
That every winning team needed outside help to create a great intranet does give us pause, however. Is this is a commentary about intranet technologies being so difficult to deal with that teams require outside help to use them effectively?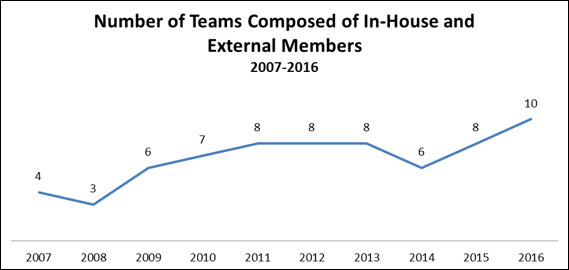 Conclusion
Intranet teams continue to improve at creating award-winning designs. Companies recognize the importance of a good, usable intranet. As a result, a higher percentage relative to the company size is involved in the intranet team. Moreover, organizations regularly, effectively employ consultants to assist with many tasks. And organizations large or small, and from just about any industry, produce award-winning intranets.
Full Report
For more information about themes, intranet best practices, and full-color screenshots of the 10 winners, download the 2016 Intranet Design Annual. The report download comes with a folder containing each image as a .png to make it easier to zoom in on and study the designs.
Share this article: Twitter | LinkedIn | Google+ | Email
---