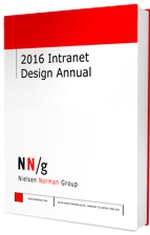 Get an inside look at the 10 best intranet designs of 2016. This 498-page report is the only place to find this information, with 166 full-color screenshots of before-and-after designs, which are usually protected behind the organization's firewall.
The report includes an accompanying file with full-size versions of all 166 intranet images contained in the report.
Comprehensive case studies, detailed best practices and annotated screenshots keep you up-to-date on current trends and challenges that you can use to improve your own intranet design.
The winning intranets were chosen by expert review based on design and usability, from an international field of submissions.
Article: 10 Best Intranets of 2016
Topics
Comprehensive case studies of winning intranet designs
Tips for incorporating successful design patterns and best practices into your intranet
Lessons learned and tips for improving the intranet design process
Responsive design
Understanding employees
Content reduction and migration
Author support and content workflows
Personalization and customization
Multi-language support
Help
Video and images
Search
Fat footers
Integration and support of social tools
Global navigation
Team sizes
Project timelines
Governance structures
Return on investment and measures of success

2016 Winners
American Cancer Society (United States), a global nonprofit voluntary health organization fighting against cancer
Cadwalader, Wickersham & Taft LLP (United States), a financial services law firm
DORMA (Germany), since September 2015 part of the newly formed dorma+kaba Group, whose 16,000 employees produce and market door technology systems and allied products around the globe
Enbridge Inc. (Canada), a company that transports, generates, and distributes energy across North America
Intermountain Healthcare (United States), a not-for-profit health system with 22 hospitals and 185 clinics serving Utah and southeastern Idaho
NAV CANADA (Canada), Canada's Air Navigation Service Provider (ANSP) that manages 12 million aircraft movements per year for 40,000 customers across 18 million square kilometers, making it the world's second-largest ANSP by traffic volume
Repsol S.A. (Spain), a private energy company providing service in more than 40 countries
Salini Impregilo SpA (Italy), a global construction company specializing in complex infrastructure projects and operating in 50 countries
The Co-operators Group Limited (Canada), a co-operative insurance and financial services organization
The Swedish Parliament (Sweden), Sweden's primary representative forum, elected by the people in general elections
These intranets supported from 950 to 35,000 employees, with an average organization size of 12,500 employees.
Learn more about the winning teams.
See also: The previous year's winning intranet designs from 2015.