Writing Compelling Digital Copy
Web content for the way your audience thinks and behaves
Increase the usability of your website or intranet by following our "Writing for the Web" guidelines. People rarely read web pages word by word. Instead, they scan pages, picking out individual words and sentences. They do this because they are task-focused and need to ensure the page will have their answer before they commit to reading it. In this course, you will learn the details of users' reading behavior online and how to present content in a way that makes it easy for them to find and understand information.
"NN/g brought a vast amount of best practice advice and examples and taught our various campus representatives skills to write and lay out usable content."
Scott Wade, Director of Information Technology Services (ITS)
The University of Montana Western
Topics Covered
Topics Covered
Get eyetracking evidence on how people read online vs. in print

Active vs. passive reading behaviors
Common online reading and scanning patterns
Designing for how much (or how little) people read
When and why people are motivated to read
What traditional writers need to know

Rules for web writing

Writing techniques to increase credibility
Converting feature-driven language to benefits-driven language so people relate to your message
Search engine optimization (SEO) and usability

Best practices for formatting online content

Prioritizing information to increase findability
Tips to improve scanning and comprehension
Content chunks to reduce information overload
Page titles that attract attention and help users find information
Headings and subheadings as a technique to encourage scrolling
Writing effective summaries for complex content
Hyperlinks that encourage clicks

Content types that can convince users to take action

Effective taglines explain who you are
Company information
Helpful error messages

Techniques for organizing complex content and articles

Repurposing print and PDF documents for the web
Designing content so people will scroll
When to keep information on a single page
Benefit of long pages vs. pagination
Strategies for layering content
Alternative ways to present information

How to write for your readers

Understanding your audience and their limitations
Using personas to inform content
Addressing needs of both novice and expert users
Help all your users by writing at a lower grade level
Measuring readability and comprehension
Creating accessible content

Dealing with organizational politics

Integrating content strategy into a development process
Managing the writing process
Creating a style guide for content contributors
Defining and applying a consistent voice, tone, and style to appeal to users
Testing and evaluating your content
Free Material With Course Attendance
Free Material With Course Attendance
This 355-page report offers 83 recommendations for web writing and content layout, plus 102 detailed findings about how people read on the web, including scanning patterns revealed as we used eyetracking technology during usability tests.
Checklist: Rules for Web Writing
Format
Format
This course is an interactive lecture. Through in-depth exercises you will learn to apply and practice new principles and techniques while staying grounded in the research that supports them. Individually, and in groups, you will rewrite, redesign, and reorganize existing web-copy according to the guidelines presented in class.
The course also includes:
Findings from our own usability studies, including eyetracking
Videos from usability testing showing people's behavior in response to content
Screenshots with content that works and doesn't work, and why
Opportunities to ask questions and get answers
Participant Comments
Participant Comments
"Practical advice that we can use straight away to improve our content."
Anna Billington, Isle of Man Government
"Invaluable help that I can pass on to colleagues using real-world examples and practical application. Really appreciate the insight — impossible not to learn from this!"
Simon Twining, DWP
"Great interactivity. Engaging way of bringing across the content — excellent."
Connie Golsteyn
More Participant Comments

"Great reminders and takeaways. I can easily create a one pager for my team with these steps."

Jessica Guerin, Credit Karma

"Super helpful and dynamic — very interesting."

"My role is slightly outside of the UX world (we have a separate team for that), but I do work with them on several projects. This is my first foray into the world of data-backed web page production, and it's been very insightful. Information was presented in a way tat was easy to understand. Kate is a great presenter and is obviously knowledgeable about digital content creation."

"A terrific seminar! I am not a writer and as designer for the web this helped round out my skill set and strategies for working with content and others in my company."

Sarah Davies, Lexmark International

"Kate seemed very confident and knowledgeable. The material was covered in a way that kept us engaged. She encouraged questions and discussions which allowed the opportunity for different viewpoints to be explained. Two thumbs up!"

Casey Cummings, USAble Life

"Great content. Information rich but not overwhelming. Reinforced a lot of what I'm doing — but also gave me many new ideas."

Ann Crago, Northwestern University Feinberg School of Medicine
Instructors
Instructors
Hoa Loranger is VP at Nielsen Norman Group and has worked in user experience for over 15 years. She conducts research worldwide, and presents keynotes and training on best practices for interface design. Hoa has consulted for companies such as Microsoft, HP, Allstate, Samsung, Verizon, and Disney. She authors publications, including a book, Prioritizing Web Usability. Read more about Hoa.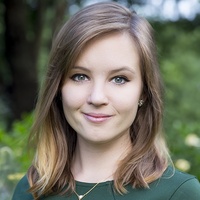 Kate Meyer is a User Experience Specialist with Nielsen Norman Group. She plans and executes user research to help guide strategy and implementation for websites and applications. She also leads UX training courses and conducts independent research for NN/g. Her research findings and recommendations are informed by her background in information theory and design, as well as her development experience. Read more about Kate.