Designing for Millennials
Everything you need to know to attract and impress Millennials, the first generation of digital natives
The first generation to be raised on the Internet has reached young adulthood—meaning they're now earning and spending more money than ever before. Unfounded stereotypes and theories about Millennials are running rampant, but don't underestimate this increasingly important demographic.
This course will give you a thorough understanding of the characteristics that most Millennials tend to exhibit, as well as how to design interfaces that appeal to them. It also covers the behaviors and tendencies observed in college students and other young adults—not just those belonging to the Millennial generation—so you'll learn strategies that will be useful for decades to come. Our portrayal of Millennials is based in research, not vague stereotypes.
"Just the right amount of information to create web content that will appeal to everyone without losing Millennials. This course has inspiring info about how young adults see the web and consume information."
Lauralee Haefner, University of Rochester Medical Center — Pediatrics
Topics Covered
Topics Covered
Who exactly counts as a Millennial

Age ranges
Myths and stereotypes about Millennials

How young adults use the web

Information seeking behavior
Young adults' complicated relationships with their smartphones
Social media

How young adult users differ from other audiences (including teens and older adults)
Designing interfaces that are visually appealing to young adult users
Writing content that hits the right tone and builds trust
Constructing effective navigation systems for young adult users
Maximizing the impact of multimedia
What millennials expect from search, and how they use Google
Tips for how to conduct your own user research studies with young adults
Free Material With Course Attendance
Free Material With Course Attendance
Report: Designing for Young Adults (Ages 18-25)
This 216-page report offers 81 design guidelines based on our usability research with young adults. Discussions and 175 screenshot illustrations supplement our findings.
Format
Format
The basis of the course is a lecture format with a couple of group exercises to reinforce the learned principles and guidelines.
The course also includes:
Findings and video clips from our own usability studies
Example designs that we deconstruct to show why they work and where they fail
Opportunities to ask questions and get answers
Interactive discussions to help you learn to design for young adults
Participant Comments
Participant Comments
"Topic and subject matter were great. Especially the stuff about how Millennials browse the web."
"Fantastic, relevant, recent data. Useful and actionable information. Thanks!"
"This really was invaluable and is completely applicable to my next project. Light bulbs!! Yes!"
"I learned so much. The pace of the course was just right. Kate was easy to understand and a subject matter expert! Loved the mix of video examples to illustrate points."
Christine Beatty, Verizon Marketing Operations
"Good evidence based information, good usability lab examples."
Instructor
Instructor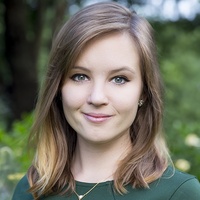 Kate Meyer is a User Experience Specialist with Nielsen Norman Group. She plans and executes user research to help guide strategy and implementation for websites and applications. She also leads UX training courses and conducts independent research for NN/g. Her research findings and recommendations are informed by her background in information theory and design, as well as her development experience. Read more about Kate.