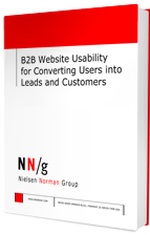 Learn techniques for supporting business customers through complex buying processes. Ensure your business-to-business website stands out among the competitors. Know what customers need when trying to complete tasks such as comparing products, building a shortlist, and signing up for information.
Featuring complex products and services, catering to a diverse audience, and accommodating long buying cycles does not mean your website must be difficult to use.
This 254-page report presents 141 design guidelines based on our usability research. Discussions and 160 screenshot illustrations supplement our findings.
Topics covered
Get in the heads of business customers: Understand what motivates them to do business on websites
Designing for diverse audiences

Personas: Putting faces to your business customers, special sectors
Company size: Considerations for small, medium, and large companies
Understand how people's experiences on general websites affect their expectations on B2B websites

Success and satisfaction ratings

Relationship between success and satisfaction
Customer priorities and information rankings
Company reputation and its effect on ratings and behavior

Checklist of 141 guidelines to convert more business leads into customers

First impressions: Making it easy for prospects to find you and stay
Credibility and trust: Corporate information, tone, and writing style
Products: Product selection, product pages, and product information
Navigation: Category names, navigational structure, and search
Images, multimedia, and demonstration videos
Contact: phone, chat, forms, and information on contact page
Registration and online account management
Proof of business benefits: Case studies, white papers, and technical documents
Strong call to action
Shopping cart and checkout
Supporting and maintaining customers
Partner-specific custom websites
The online impact of offline marketing dollars