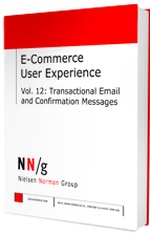 Part of the E-Commerce User Experience Series
Confirmation email is one of the most important touchpoints to inform a customer of their transaction. Good email usability can save money by reducing telephone calls to your call center. This report identifies how real people interact with email, starting with the inbox (where many messages are ruthlessly deleted) through their consumption of the email content.
This 312-page report contains 144 recommendations for improving the design of transactional messages that are generated automatically by a computer (the report doesn't cover human-authored customer service). Discussions and 182 screenshot illustrations supplement the findings.
Topics
Get an inside look at how customers handle transactional email messages in their inbox

How email affects trust
Common issues with transactional email

Subject, sender, and message body

Writing From, Subject, and message body information
Recommended features for all transactional messages
Message sequences
Distinguishing your messages from phishing messages

Guidelines by message type

Agreement change notices
Available-now notices
Automated customer service messages
Information request responses
Status notifications
Registration and account information
Profile-update notifications
Information posting notifications
Recommendations from a friend
Social network notifications
Government responses
Meeting or event confirmations
Billing and payment notices
Reservation confirmations and e-tickets
Order and service confirmations
Shipment and pickup notifications
Cancellation, return, refund, rebate, and bonus notices
Failure notices

Email attributes

Trust
Completeness
Value
Ease of use
Writing
Design