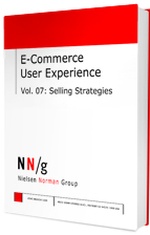 Part of the E-Commerce User Experience Series
A great first experience is the best enticement for repeat business. But even a perfectly usable site can't outweigh unrealistic prices or unfriendly policies. This report teaches sales and marketing specialists, as well as site designers, some classic usability concepts and online selling strategies.
This 182-page report contains 82 marketing, sales, and usability recommendations based on our usability research. Discussions and 167 screenshot illustrations supplement the findings.
Topics
Supporting the sales process

E-commerce essentials
Money matters, communicate value to price concious shoppers
Supporting all users, new and exisiting customers
Helping shoppers buy more, upsell
Creating an all one experience: online and off

Pricing: sales, discounts, rebates and payments

Communicating the value of the merchandise
Sale and discounts
Additional charges
Rebates and special offers

Selection, availability, and delivery time

Navigation and search to enhance awareness
Inventory information
Delivery options and details

Supporting the sales process

Educating customers about the benefits of your product
Comparing products
Social features to support the sales process

Promoting products

Presenting promotions
Strategies for promotions
Encouraging additional sales
Related items
Upsell and cross sell strategies

Supporting gift buying

Gift certificates, gift registry
Personal messages

Online and offline stores

Inventory discrepancies between physical store and online store
Price differences between stores

Shipping and delivery options
Return policy
Catalogs and circulars
Loyalty and repeat customers

Giving customers reasons to shop at the site again