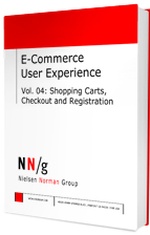 Part of the E-Commerce User Experience Series
When your customer can't or won't complete an online order even though they found a product they want, it is a disaster for your site. You lose that sale, and you often lose the customer as well. This report includes design guidelines for instilling trust in your customers and making their purchase process as easy as possible.
This 277-page report contains 114 design recommendations based on our usability research. Discussions and 287 screenshot illustrations supplement the findings.
Topics
Elements of a successful checkout process

Organizing the purchase
Encouraging registration
No surprises
When, where and how
Closing the sale

Checkout process steps and procedures

Essential elements of a shopping cart
Editing the shopping cart
Saving the shopping cart
Gift options

Requesting personal information

Form entry problems
Error messages

Registration

Problems with registration
Optional registration
Required registration
Elements of registration

Shipping and billing address forms
Shipping and delivery options
Payment information

Gift cards and gift certificates

Completing the order: summary and confirmation
Order summary
Order confirmation