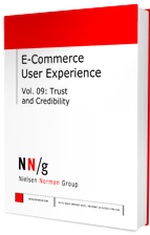 Part of the E-Commerce User Experience Series
Trust is essential to the user's willingness to risk time, money, and personal data on a website. If you lose trust, you lose the sale and you may lose the customer as well. This report identifies factors that enhance and damage the credibility of e-commerce sites.
This 96-page report contains 59 design recommendations based on our usability research. Discussions and 88 screenshot illustrations supplement the findings.
Topics
Visual design and site experience

First impressions
Professional site design
Site search is reliable and usable

Information about the company

Company details that users want
Stating facts
Demonstrating expertise

Product Information

Displaying the appropriate level of product detail
Answering user questions

Respecting users' information

Opt in
Requesting personal information
Registration

Credibility indicators

Endorsements
Logos
Feedback on third-party sites
Reviews: good and bad

Pricing and cost

Showing price
Justifying the cost

Inventory and availability
Performance and errors
Fraud, security, and policies
Customer support process and policies
Research Method
The information in this report is based on two separate rounds of e-commerce studies, including:
One-on-one usability testing
Diary-based longitudinal study
Eyetracking
Representative users tested 206 e-commerce websites. The studies took place in the United States, the United Kingdom, Denmark, and China (Hong Kong).