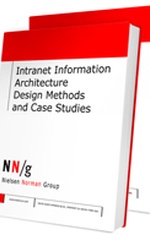 Learn how best to structure your intranet, how to design its navigation system, and how to run the Information Architecture (IA) aspects of the design process.
The ROI is immense; we find that employees waste inordinate amounts of time being lost on intranets. Improve your intranet's IA and the findability of your content and services, for higher user satisfaction and employee productivity.
Our analysis encompasses intranets from a wide range of industries in 13 countries. Of the organizations, 9 were small (500 employees or less), 48 were mid-sized (501-20,000 employees), and 17 were large (more than 20,000 employees).
This 1,349-page report comes in two volumes:
Volume 1: Intranet Information Architecture Design Methods and Case Studies
265 pages
Annotated screenshots explaining why a particular design is good or what to watch out for
Analysis and summary of common design patterns used
How to tackle navigational issues faced by these organizations
Volume 2: Design Gallery: Screenshots and Examples from 77 Intranet IAs
1,084 pages
1,106 screenshots of the navigation design. Mine this treasure-trove of design ideas.
Company profiles briefly describing the organizations and their intranet
Complete sitemaps listing all the IA categories, allowing you to see how they're structured
Article on research findings: Intranet Information Architecture (IA) Trends
Topics
Common topics found in the main navigation
Labeling of navigation categories

Problem with confusing labels
Design solutions to unclear terms
Ideas for good category labels

A starting point for top-level navigation
Ordering of top-level navigation links
Determining the website structure: Hierarchy, linear, web
Organization schemes to group related content by

Department
Topic or task
Audience
Geography
Format
Time
Alphabet

Presenting only relevant content through personalization and customization

Pushing content based on user's profile
Removing content depending on relevance to user
Application customization
Whole page customization
Personal profile pages
One intranet vs. Multiple websites

Benefits and drawbacks of different types of global and local navigation

Across the top
Vertical on the left
Expanding menus
Dropdowns and flyouts
Megamenus

Role of information architecture
Research methods used when designing an IA

Learning about users: field studies, diaries and interviews
Establishing a starting point: content audits and collecting feedback
Traffic statistics
Gathering opinions: surveys
Card sorting
Tree testing
User testing
Promoting good practices across the organization
Tools used

Common information architecture problems
Section landing pages to help users find information

List of links with and without descriptions
Large centerpiece image
Modules
Paragraph summary of area

Wayfinding: helping users orient themselves

Consistent and persistent global navigation
Location in website
Breadcrumbs
Creating a consistent experience: guidelines, templates, and content management systems (CMSs)

Encouraging exploration

Related links
Inline links
Social filters
Tagging content

Shortcuts

Quick links
Fat footers
Utility navigation
A-z index
Sitemaps
Grouping similar information: forms, policies and other content