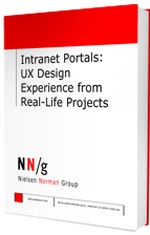 A good intranet portal provides easy access to all enterprise information, resources and tools. Intranet portals can also effectively consolidate applications, connect information, drive governance, change communication, and reduce fragmentation.
Comprehensive case studies show how the portal team can deliver what the organization and its users (your employees) need to be successful. Some of the most-praised features of intranet portals turn out not to be needed in most companies. For example, role-based personalization usually works better than individual personalization. And some compelling advice isn't about features at all, rather it's about process and governance.
This 653-page report presents 174 best practices based on 83 case studies. Discussions and 397 screenshot illustrations supplement our findings.
This report focuses on the design, user interface, use, usability, and adoption of an enterprise portal — that is, the user experience of intranets that look, feel and act like portals.
Topics
Portal characteristics
Past and future portals
Defining the portal
Development best practices
Governance models
Department ownership and staffing
Getting employees to use and like the portal
Governance challenges
Managing content
The importance of the content management system (CMS)
Centralized and decentralized ownership and authorship
Templates, standards, and guidelines
Communication and support
User research, prototyping, card sorting, and focus groups
The common portal homepage (or no homepage)
Initial portal implementation strategy
Sub-sites
Department pages
People pages
Website design and structure
Information architecture
Moving from intranet IA to portal IA takes time
Personalization and customization
Application showcase
Portal platforms
Enterprise mobile
Collaboration and social tools
Security and single sign-on
Search and filters
Improving search
Return on investment
Methods and technologies used to realize the vision within an organization's framework