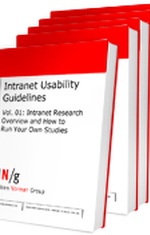 Improving the usability of your intranet will increase employee productivity, knowledge, satisfaction, and collaboration. These reports outline detailed recommendations for enhancing the intranet experience from both and employee and business perspective, based on our observational research studies.
This series includes nine reports on specific topics and presents 782 guidelines. Discussions, 938 screenshots of intranets, charts, and illustrations supplement the findings.
Buy individual reports, or save 48% when you purchase all 9 volumes together: in total 1,505 pages constituting a complete intranet usability library.
Individual Reports
Vol. 01: Research Overview and How to Run Your Own Studies
Learn how we collected data for the Intranet Usability Guidelines research series so you can apply the guidelines appropriately and know how to run your own usability studies.
Vol. 02: Accessing the Intranet: Address, Homepage, and Personalization
Create an engaging intranet homepage, easy login procedures, and personalized content to deliver secure information to the right employees at the right time.
Vol. 03: HR Benefits, Forms, and Employee Self-Service Features
Ensure that employees can access and understand their benefits, and the organization's policies and procedures via the Intranet. Create automated workflows and remove the need for cumbersome downloadable forms.
Vol. 04: Communications: News, Newsletters, and Social Features
Motivate, inform, and involve employees through news articles and deploy social networking features effectively on your intranet.
Vol. 05: Information about People, Teams, Departments, and the Company (Incl. Corporate Policies)
Learn how to best present information about people, teams, and organizational charts on your intranet. Determine the best employee profile elements for your organization.
Vol. 06: Searching the Intranet and the Employee Directory
Improve and streamline intranet search and employee directory search interactions.
Vol. 07: Navigation and Page Layout
Make intranet users aware that information exists, and make it easy for users to find information through browsing.
Vol. 08: Content Management and Supporting Multiple Locations and Languages
Overcome the challenges of managing and delivering content for your intranet users in one location or many.
Vol. 09: Managing the Intranet and Teams
A good intranet user experience requires management, strategy, governance, and appropriate resources. Follow 29 tips for creating and maintaining a solid intranet team.