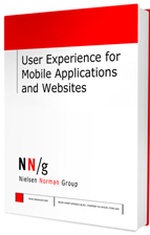 Summary
Although there are more smartphone users worldwide than desktop and laptop users, the usability of mobile websites and applications is still well behind the usability of desktop websites. This report documents our findings from 15 series of usability studies with users in 6 countries (mostly in the USA, but also in Australia, Hong Kong, The Netherlands, Romania, and the UK). It presents a set of design recommendations intended to help designers create a good mobile user experience.
This 506-page report offers 336 design guidelines based on our usability research. Discussions and more than 700 screenshot illustrations supplement our findings.
Topics
Activities commonly performed on mobile phones and types of content that mobile users expect
Mobile limitations and strengths
App functionality: Which types of tasks make sense in a mobile app
Relative advantages and disadvantages of mobile websites vs. mobile apps (hybrid or native)
Benefits and drawbacks of responsive or adaptive web design vs. mobile-dedicated sites
Accessing mobile sites and making them findable
Making apps findable and discoverable

Advertising mobile apps on websites
Icons, names, and descriptions of mobile apps
App discoverability: Making your app findable in an app store
Dealing with multiple apps from the same company

Differences between mobile platforms for apps

Physical buttons on different platforms
Transitioning from a desktop app to a phone app
Hybrid apps

Skeuomorphism and flat design
Logo and company name
Icons and icon labels
Controls

Spinners, sliders, and other selectors
Carousels and carousel cues
Button and button placement

Feedback

Errors and alerts; reporting errors in forms and elsewhere
Notifications
Modal dialogs and alerts
Progress indicators

Orientation
Input and the touchscreen

Touch targets: size, placement, affordances or signifiers
Gestures
Making gestures usable
Usability of the horizontal swipe or horizontal navigation
Gesture ambiguity
Typing and mobile input-field design

Forms

Workflow and form steps
Submit buttons
Login and registration forms

Navigation and IA on mobile; how to make navigation accessible and discoverable

Menus: Dropdown boxes, accordions, overlays, sliding menus, pie menus
Tab bars, navigation bars, hamburger and other navigation menus, navigation hubs
How to deal with deep hierarchies on mobile
The Back button
Hidden navigation: More and action overflow

Lists and scrolling

View All, pagination, and infinite scrolling

Search, filter, sort

Scoped search
Presenting search results
Presenting and submitting filters

Content

Text content: readability and scannability
Headlines and summaries
Related content
Images and videos
Dealing with long pages: Mini-IA and in-page tables of contents

Location information, maps, locator forms
Instructions and help: instructional overlays, coach marks, contextual tips
Initial experience (onboarding)
Benefits
Checklist of 336 specific design recommendations:

Review your mobile user experience for these 336 items, and you will discover many things that need improvement
Score your design against a checklist of usability guidelines to make sure you don't do anything wrong

Description of how users behave when using a variety of mobile sites and apps, including extensive quotes: Learn from the users' comments and reactions to common design mistakes in the sites we tested
$400,000 worth of research at 0.07% of the cost
The differentiating factors that caused site visitors and app users to complete tasks
successfully or unsuccessfully
More than 700 color screenshots from a very wide variety of mobile sites and apps, with descriptions of why they worked well or caused problems in usability testing
Methodology description helping you define the protocol for running your own mobile usability studies
What's New in the Third Edition?
This third edition of the mobile report is a completely revised and reorganized version of our second edition that reflects the changes in the mobile landscape. The additions in this report reflect many of the new mobile topics and patterns that emerged or were revived in the recent years since the second edition. Additions include: responsive design and how it relates to mobile design in general, findability of apps, flat design, accordions and overlays, hamburger menus, gestures, pagination and infinite lists, flattening navigation hierarchies for mobile, secondary navigation and submenus, in-page tables of contents and page mini-IA, instructional overlays, and more.
USA Today article about the first edition
Who Should Read This Report?
Those responsible for a company's or organization's mobile strategy
Mobile designers and UX researchers