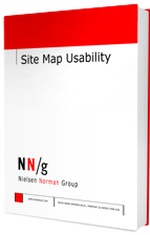 Site maps can save users from being lost on a crowded site by serving as an alternative method for navigating sites. Well-designed site maps provide a visualization of the site's hierarchy and groupings, which help people find the information they seek. We present techniques for presenting:
Alphabetical site indexes
Dynamic diagrams
Two-dimensional lists
This 155-page report offers 47 design recommendations for creating effective site maps. Discussions and 87 screenshots supplement the findings.
Topics covered
Benefits of a site map
Site maps today
Behavioral patterns

Frequency of use
Hunting strategies
How participants define site maps

Attributes of site maps

Poorly rated and low success
Highly rated and high success

Checklist of 47 guidelines for improving site maps

Site map link: Name and placement
Navigation
Relationship of the site map to the site
One column vs. multiple columns
Page density
Design
Content
Alphabetical indices

User-based diagrams representing their mental models of websites
Methodology