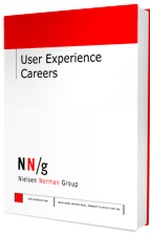 This 189-page free report analyzes how UX pros educated and trained themselves for their careers. We surveyed 963 people working in the field to find out what they do at work, what is most useful to know, and which kinds of people thrive in UX research, interaction design, and information architecture.
Article on research findings: User Experience Career Advice
Topics
Basics: What user experience is and what UX pros actually do.
Satisfaction: Most UX professionals love what they do, because their work is fulfilling and the jobs pay well.
What to learn: Job roles and activities are very diverse, making many kinds of education and backgrounds applicable. Find out which classes are the most useful and what kind of tools to learn.

Having a university degree in something is probably required, as 90% of respondents have a degree. Their degrees are incredibly diverse. Understanding people, business, and technology is necessary, so interdisciplinary degrees are quite common.
Graduate degrees are not strictly necessary, but if you do get one, it's a good idea to specialize in something applicable, such as human-computer interaction (HCI) or library and information science (MLIS).
Soft skills and UX-specific methods and practices can be learned in many different ways, and they are crucial to have. Teaching yourself and learning from mentors are great strategies. The art of persuasion and the ability to work in teams are very highly valued.
HTML, CSS, and web design are skills most UX pros have and most others very much want to learn.

Top UX activities: UX pros engage in various work activities such as designing prototypes, conducting research, and organizing information. In fact, 75% of respondents said that they perform at least 16 different UX activities.
What they work on: Most people in the survey have worked on the web, but the variety of work is amazing. Overall, our respondents mentioned working on 78 different categories of products, such as mobile apps, services, device controls, and even robots.
Getting a good job:

Where the jobs are — Most jobs are still in computer-related sectors (designing software and smart devices) and in information-centric industries such as finance and healthcare. Most UX roles don't have "UX" in the job titles.
What to look for in your first UX position — Good companies to work for take UX seriously and should provide some kind of mentoring. Variety of activities is important to a good start.
Who gets the jobs – People who hire for UX positions look for life-long learners who are adaptable and great communicators. We gathered pages of questions that they ask candidates in interviews.
The best ways to get started in UX — Hundreds of helpful suggestions about what to do (and not do) in the respondents' own words.