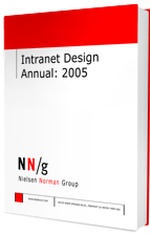 Get an inside look at the 10 best intranet designs of 2005 — this 235-page report is the only place to find this information, with 116 full-color screenshots of before and after designs, which are usually protected behind the organization's firewall.
Comprehensive case studies inform you of the trends and challenges of the year, which you can use to improve your own intranet design.
The winning intranets were chosen by expert review based on design and usability, from a field of hundreds of nominations.
Article: 10 Best Intranets of 2014
Topics
Tips for incorporating successful design patterns onto your intranet
Encouraging employees to self-publish content
Keeping the intranet up-to-date
Supporting factory-floor employees
Collaborating with clients through an extranet
Customer relationship management
Consistent navigation
Multilingual intranets; supporting international employees
Online video; executive communications
Collaboration tools and discussion boards
E-learning features on intranets
Intranet as driver for corporate culture and to promote corporate values
Wiki systems on intranets
Intranet search
Development process for intranet redesigns
Promoting intranet launches
Campaigns to encourage use of new features
Staffing of intranet teams
Updating and maintaining standards and guidelines for intranet design
Information on the methods and technologies used to achieve the vision within an organization's framework