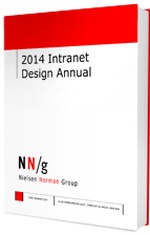 Get an inside look at the 10 best intranet designs of 2014 — this 314-page report is the only place to find this information, with 144 full-color screenshots of before and after designs, which are usually protected behind the organization's firewall.
Comprehensive case studies and detailed best practices keep you up-to-date on current trends and challenges that you can use to improve your own intranet design.
The winning intranets were chosen by expert review based on design and usability, from a field of hundreds of nominations.
Article: 10 Best Intranets of 2014
Topics
Tips for incorporating successful design patterns and best practices into your intranet
Responsive design on intranets
Mobile considerations
Agile development
Persistent right rail
Functional footers
Search: Global, local, and people
Streamlining megamenus
Filmstrips and carousels
Flat design
Communicative carousels
Helpful team sections and collaboration spaces
Visual design to support the brand and desired tone
Powerful images and photographs
Continued integration and evolution of social tools
Effectively coaxing employees to update their profiles, and comment on articles
Change management
Governance structures to maintain design gains
Methods and technologies used to achieve the vision within an organization's framework
Early wireframing to aid development and buy-in
SharePoint advice
2014 Winners
Abt Associates, Inc., a global research firm (US)
Air New Zealand, an airline (New Zealand)
Allianz Australia, an insurance company (Australia)
AMP, a wealth-management company (Australia)
International Monetary Fund (IMF), an international financial and economic organization of 187 countries (US)
Mayo Clinic, a not-for-profit group medical practice of physicians, scientists, and researchers (US)
National Geographic, a non-profit scientific institution (US)
Ooredoo, a communications company (Qatar)
triptic, an online communications agency (The Netherlands)
WellPoint, a healthcare solutions provider (US)
These intranets supported from 20 to 61,000 employees, and the average size was 11,600 employees.